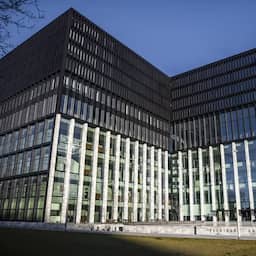 Clyde V. (72), who was convicted of four sex crimes seventeen years ago, has abused his biological son, two stepsons and a childhood friend of his son, according to the judiciary. He would have done that for 27 years.
This article comes from Het Parool. Every day a selection of the best articles from the newspapers and magazines appears on NU.nl. You can read more about that here.
It all started with his second son, when he was born in 1981. Nearly 40 years later, the prosecutor says, "It's finally stopped."
The life of Clyde V. (72), born in Texas in the United States, is characterized by a history of paedosexual acts. Not exclusively, according to the hearing: V. has also had relationships with women.
But, says the prosecutor, "He modeled a life where young boys were available, and to get them into his sphere of influence, he created families and father-son relationships."
Urine
Clyde V. is suspected of having committed sexual acts with four boys while they were minors. He was sentenced to three years in prison in 2006 for four previous sex offenses. The four boys only filed a report after that case, which led to today's case. V. has now been held in custody for eleven months.
Tuesday includes abuse of his own son (now 28 years old) born from a Polish mother after a one-night stand. That abuse would have lasted until the eighth year and would have taken place in Portugal, where the family lived temporarily, but also in Amsterdam. The son states that mutual oral sex took place, sometimes with a 45 second timer on.
Q: "I can't, I don't have a fetish for timers."
V. is also said to have regularly invited a childhood friend (now 38 years old) of one of his other sons. That boy had a difficult home situation and sometimes spent the whole weekend with V. in his bed. According to the prosecutor, he would have been abused until he was twelve.
Both boys describe that V. drank their urine.
Toys
When V. meets a woman in Nepal after his prison sentence and marries her, he gets a new family. Two of his stepsons also claim that V. abused them.
The eldest stepson, who is fourteen years old when he meets V., states that he sometimes woke up because he felt V. against him. That would have led to fellatio. The youngest stepson states that he received money and toys, such as baby Annabel's doll, in exchange for sex. That would have happened in the past three years, the boy is not yet twelve years old.
At the hearing, V. only admits to having performed the acts with his son. Of his son's childhood friend, he says "it could have happened." He firmly denies the abuse of the past decade.
Nervousness
"I was already done with the way of thinking that I had before that time," says V. at the hearing. "I thought kids had their own sexuality. I liked giving them an orgasm."
V. argues that this stems from his own sexuality. He comes from a family where sex was not discussed. "When I was 11 or 12, I discovered what an orgasm was. I thought, wow, what is this, and why wasn't I told about this?"
The public prosecutor notes that V. regularly has to laugh when the facts are discussed. "While the atmosphere in the courtroom is fraught," she says. Just before this, one of the stepsons shouted from the audience that V. 'shouldn't lie' and 'save his soul'.
V.: "I laugh out of nervousness."
Rediscovered memories
Lawyer Tess Bruers appeals to 'recovered memories'. She states that the four declarants do not remember much and have made their declarations after talking to each other for hours. "The memories may have been formed differently, or there may even be a false memory."
When the public prosecutor asks V. why three of the four would declare false, as he thinks, V. hints at financial gain. "There is now more than a ton in the game," he refers to the damages of 140,000 euros that are being claimed, "and everything is lubricated with money."
The judge: "That's what the declarants said too", referring to the fact that they stated that they received money or toys in exchange for sex.
The mother is present on behalf of the youngest stepson, because he is still a minor. What is striking is that when the three victims present make use of their right to speak, all three still do to emphasize V. to love. The 28-year-old biological son, flown in from America, says: "I appreciate everything you've done for me. I want you to stop doing these things and serve your sentence so we can enjoy your fatherhood."
On the possibility of his declaring for financial gain, he says, "I'm just asking $700 for my flight."
Depression
The 38-year-old childhood friend claims to have hidden the abuse for a long time. "I have major trust issues in the field of sexual relationships, not being able to finish high school. Since I reported it, I have fallen into a depression and can no longer work." Due to the long waiting lists in healthcare, he only had his first therapy treatment last February.
Then he turns to V.: "I think it's important that you get psychological help, even if you have to get it."
The public prosecutor agrees with the latter: she demands four years in prison with TBS and compulsory treatment. She also wants a ban on contact with the youngest stepson. Research in the Pieter Baan Center shows that there is a high risk that V. will go wrong again. The officer: "According to the suspect, sexual abuse does not exist, but sex with children does."
---
---