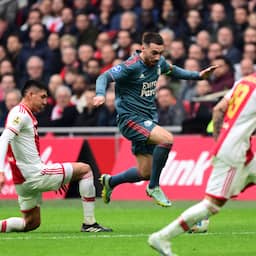 ---
March 22, 2023 at 9:24 p.m
The KNVB will allow eating and drinking breaks in professional football from the next round of play. This is done with a view to players participating in Ramadan. It is the first time that the Dutch football association takes this into account.
Ramadan started on Tuesday and lasts about a month. Many Muslims fast in that period between sunrise and sunset.
This can be a difficult situation for professional athletes, as they need nutrients to perform their profession properly. The KNVB is taking this into account this year by allowing eating and drinking breaks.
Referees will briefly suspend football matches in the Eredivisie and Kitchen Champion Division at the first available time after sunset. It is a condition that at least one player on the field participates in Ramadan. This will be discussed before kick-off.
This year is the first time that the KNVB allows eating and drinking breaks. The Dutch Football Association follows the example of the Premier League, which has already introduced this rule.
During Ramadan, at least three Eredivisie rounds are scheduled this year. The next games are Saturday, April 1. That day, three matches will be kicked off just before or after sunset (around 8.15 PM).
View the stand and the program in the Eredivisie
---
---