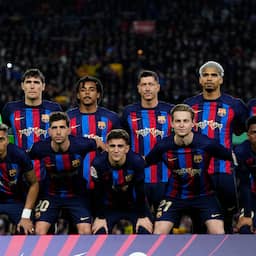 FC Barcelona will choose the attack in the bribery case on Wednesday. The Spanish top club is taking five journalists and a number of media to court because of their reports about the millions in payments to a former referee boss.
According to FC Barcelona, ​​the journalists and media have tried to damage the club with their reporting.
The news about the possible bribery came to light a month ago. FC Barcelona has paid José María Enríquez Negreira's company a total of 6.5 million euros. Enríquez Negreira was Vice President of the Spanish Referees' Federation between 2016 and 2018.
The Spanish public prosecutor has sued FC Barcelona over these payments and has launched an investigation. Former presidents Josep Maria Bartomeu and Sandro Rosell of the Catalan club are said to have been guilty of bribery.
Current FC Barcelona president Joan Laporta has dismissed this accusation as nonsense. According to him, the payments were for advice on referee matters. This reading was confirmed on Tuesday by Enríquez Negreira.
According to Spanish media, FC Barcelona plans to file more charges. It is not yet known when the case will occur.
---
---