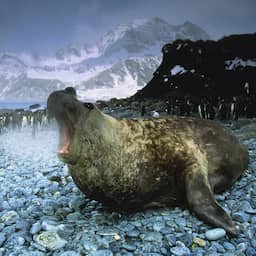 Due to an extreme urge to mate, male elephant seals live less than the females on average. This is shown by a study among fourteen thousand elephant seals, which The Guardian writes about on Wednesday.
Until the animals are about eight years old, the mortality among females and males is the same. After that, males have only a 50 percent chance of survival, compared to an 80 percent chance among females.
Here's the thing: from the sixth year of life, the males are ready to mate. But fighting the animals must fight fiercely for that. The female elephant seals stay in herds and only the strongest male elephant seal has the right to mate with them.
During the fights, the males are largely dependent on their weight. This drives the animals to gain as many kilos as possible as quickly as possible. Therefore, the males swim to high-risk sea areas where they can find more food.
But in those areas they are more likely to fall prey to sharks and killer whales, for example. As a result, relatively more female elephant seals survive the search for food.
Incidentally, there is now and then a boost for the less strong male elephant seals: if the herd of female elephants is large enough, the dominant male occasionally allows an 'assistant'.
Overall, only 4 percent of male elephant seals are lucky enough to lead a herd. The other animals spend most of their lives in the water.
---
---