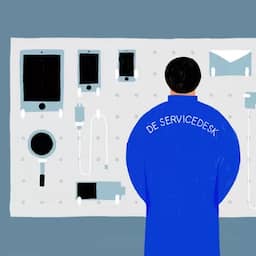 Remove unused chargers from the socket, warns the fire brigade. How flammable are they?
This article is from the Volkskrant. Every day a selection of the best articles from the newspapers and magazines appears on NU.nl. You can read more about that here.
If it is up to the fire department, unplug chargers and phones when not charging. They can catch fire, according to the warning. Is a forgotten phone charger indeed a risk of a blaze?
Yes, and that includes phones, but more on that later. Chargers consume energy as long as they are plugged in. That is not 100 percent efficient, says Peter Baltus, professor of electrical engineering at Eindhoven University of Technology. "There's always some energy going somewhere else, that's what the laws of physics dictate."
Everything through which energy passes gets a little warm as a result, says Baltus. Also the clock on the bedside table with a single battery. You would need a laboratory with sophisticated equipment to measure its heat.
Normally, that heat in a charger is not such a problem, but something can break, causing a short circuit and a charger to become too hot. And what do people do: they sometimes carelessly hang something over or against a charger that could catch fire.
The chance of a fire starting as a result is very small, Baltus reassures: there are all kinds of strict European requirements for our appliances, for example about mechanisms to prevent short circuits.
Still, it is wise to remove unused chargers from the socket for another reason. "All our devices have a lifespan. A calculation example: imagine that a charger lasts for a thousand hours and then breaks. If you leave it in the socket for a thousand hours at a time, you will reach that moment faster." What makes that statistical probability even greater, says Baltus, is that we have a lot of devices that are constantly plugged in.
About those phones: we put a lot of energy in a small volume (the battery). If something goes wrong, all that energy is released at once. Modern batteries are starting to come in the order of magnitude of the explosive TNT in terms of energy density. Reason why the fire brigade warns not to charge phones on a flammable cabinet, or not to put anything on a phone that could catch fire. The telephones themselves usually contain little flammable material.
The chance that a telephone causes a fire is therefore small. But still: short-circuiting devices are responsible for fires in 20 percent of the cases, calculated the Salvage Foundation, which offers help on behalf of insurers and inventories the causes. How many of those cases were caused by chargers and phones left plugged in for too long is not known.
---
---