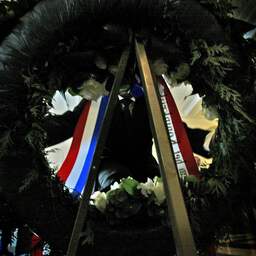 ---
Mar 21, 2023 at 5:34 PMUpdate: 22 minutes ago
The municipality of Goeree-Overflakkee will organize the Remembrance Day itself on May 4. The Ring van Oranje association, which would arrange the commemoration, has been sidelined. The association had banned an LGBTQ+ organization from laying a wreath to commemorate the queer victims of World War II.
The municipality is "very sad" about the commotion. This arose after the decision by Ring van Oranje that the Gay foundation was not allowed to lay a wreath or flower arrangement on May 4. The interest group will still receive an invitation to the meeting.
"The municipality considers it important to reflect together on May 4 on the victims of the Second World War and of war situations and peacekeeping operations," a statement read.
"Together, no one is excluded or excluded. The Gay op Flakkee Foundation is of course very welcome to lay a wreath or flower arrangement. This also consciously commemorates a group of victims that has been silent for a long time: the persecuted homosexuals during the Second World War."
'The community is not ready yet'
Ring van Oranje, the organizing association in Nieuwe-Tonge, wanted to keep Gay op Flakkee out of the village. Chairman Karolien Jordaan said in the AD on Monday that he decided to do so because the widely present strict religious community in the village "has trouble with people who are different". She says the community is "not ready".
In the coming weeks, the municipality will consult with, among others, the village council and Ring van Oranje about this year's commemoration. According to the municipality, the starting point is that there will be a dignified and respectful commemoration for everyone.
"As mayor, I am proud of the diversity of our municipality and I think it is important that we treat each other with respect," says mayor Ada Grootenboer-Dubbelman. "The situation that has arisen is very sad. This only knows losers."
---
---