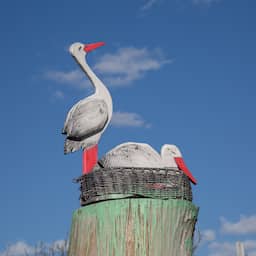 ---
Mar 21, 2023 at 3:28 PMUpdate: 9 minutes ago
From January 1, 2024, those expecting a baby will have no less than four options for surnames. Children can then carry both parents' surnames after their first name – you as the parent decide the order.
The conservative parties voted against the use of both surnames on Tuesday, but the majority in the Senate was in favour. And so future parents who are expecting a child have something else to think about.
This is how it works: your biological mother is called Mosselman and your registered partner or spouse is called Molenaar. From January 1, you no longer have to choose between those two names, but your baby can have both surnames. You then have the following options for the baby, suppose we name him Karel:
Charles Mosselman Charles Miller Karel Mosselman Molenaar Karel Molenaar Mosselman
You can also decide for yourself whether or not to use a hyphen. Do you already have a double name, for example Roosegaarde-Bisschop? As of 2024, these duplicate names will be considered as one name. Your child could then be given the name Karel Molenaar Roosegaarde-Bisschop.
D66 submitted the bill after a petition that has been signed more than fifteen thousand times, says a spokesperson for Minister Franc Weerwind (Legal Protection). That signal has been listened to. The idea is more options, more equality between men and women and passing on the names of both parents. Letters from citizens also mentioned the chance of a divorce, says a spokesman for the ministry. For example, after a divorce, the names of both parents are represented in those of their child.
Do you want to retroactively give your child two names? This is possible if the person was born after 2016. If you choose a combination of both surnames for your first child, this also applies to other children of the same parents.
92 percent have father's surname
As a parent you don't have to choose. If you don't choose anything, there is the safety net standard. This stipulates that children receive the surname of their father or co-mother if the parents are married or registered as partners.
If the parents are not married, the child will automatically take the mother's surname. But that is not often chosen: 92 percent of children in the Netherlands have the last name of the father. Both parents actively do their best for this: they have to record this at the town hall.
Adding names stops after three generations
How colorful can you make it? Karel Mosselman Molenaar who has a child with, for example, Ina Mast, can call her Laura Mosselman Molenaar Mast, because Mosselman Molenaar is regarded as one name. Then it stops: the third generation cannot pass on a triple name. Laura can pass on Mast or Mosselman Molenaar to her child.
You can't keep adding names. It is therefore expected that this will not happen, says Weerwind. The idea is to see your own identity and therefore your name in that of your child, not create an impossible passport that makes it difficult for your child.
It does not seem likely that this new option will be used en masse. At present, the vast majority of biological mothers choose the father's surname. Since 1998 it is possible to pass on the mother's surname.
Correction: In an earlier version of this article it was stated that children could be given two surnames immediately. However, this is only possible from January 1, 2024, when the law officially enters into force.
---
---