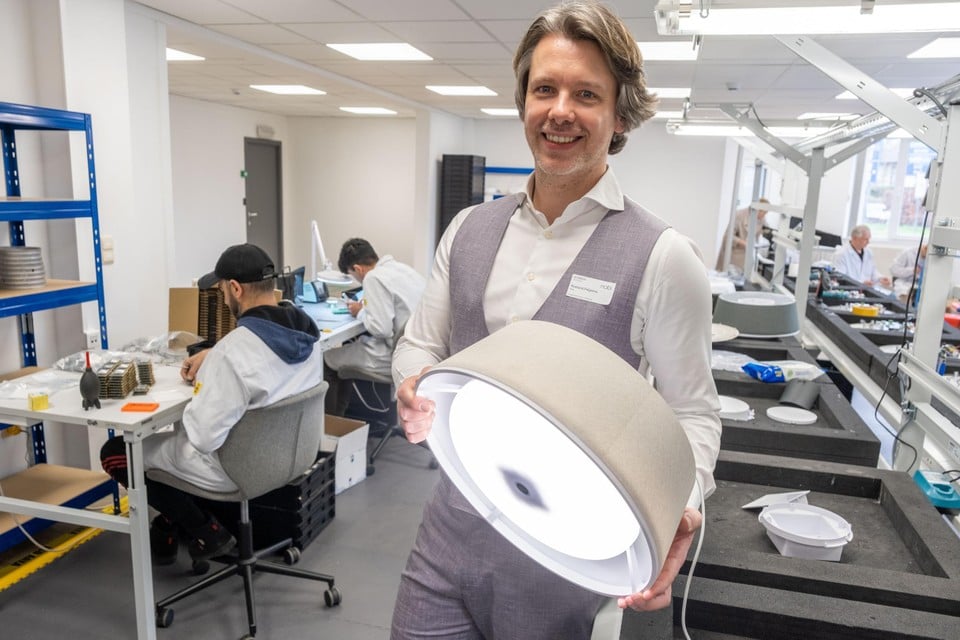 The Belgian tech company Nobi, which makes smart lamps for the healthcare sector, has stopped production in China. It thus continues the general trend of 'reshoring', whereby companies resolutely opt for a 'Made In Belgium' label.
jvhBron: BELGA
Today at 19:28
"Six months after our decision to produce locally again, we started using a production site in Aartselaar on Tuesday," says Roeland Pelgrims, CEO of Nobi. His company makes smart lamps that work with artificial intelligence. For example, the lamp can detect when someone falls.
The cost of getting parts from China to Belgium is compensating for more and more companies our high wage costs. In addition, geopolitical considerations also play a role in the decision to bring back production. "We actually put the makers back together with the developers," says Pelgrims.
Causes
Professor Rudy Aernoudt of Ghent University points to the enormous impact of both corona and the war in Ukraine. "Those factors accelerated the reshoring trend, we really need to get our industry back," says the professor. "Moreover, we can accelerate this by developing a tailor-made policy. Subsidies are not necessarily necessary, we have to listen to what the companies need in practice to return."
There is also a major strategic aspect in the choice. Europe is very dependent on China for the production of computer chips and mouth masks, among other things. "People's eyes have opened," says Aernoudt. "And we certainly shouldn't be fixated on wage costs, because they are also rising in China. That handicap is bridgeable."
Back and forth
Between 2000 and 2010, about forty percent of European companies moved to China. Today there are 350 Belgian companies in China. If they return, some benefits come into play. This reduces the delivery time in many cases. In addition, companies experience fewer intellectual property problems if production remains in Europe. Finally, the sales market is closer, which entails an enormous reduction in the ecological footprint.
Several companies preceded Nobi. There was Cornei from Zele, IVC from Avelgem and Sylviana from Tienen, all of whom brought part of the production back to Belgium. "For us, production in Flanders is no less than 18 percent cheaper than in China in the most pessimistic scenario," says CEO Pelgrims.
Nobi has offices in 5 countries: Belgium, Austria, the Netherlands, the United Kingdom and the United States. In 2023, Nobi wants to double the number of employees from 40 to 80. "This symbolic 'reshoring act' by Nobi shows vision and courage", concludes Flemish Minister of Work and Economy Jo Brouns (CD&V). "I can only hope that it encourages other Flemish high-tech entrepreneurs to anchor themselves even more regionally."
---
---