By Writing in Spanish with EFE • last update: 03/20/2023 – 16:43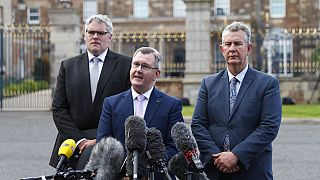 Jeffrey Donaldson and other leaders of the Northern Ireland Democratic Unionist Party (DUP), Northern Ireland, UK 5/16/2022 – Copyright Peter Morrison/Copyright 2022 The AP. All rights reserved.
The Democratic Unionist Party (DUP) continues to be the stone in the shoe of the agreement between London and Brussels. Sir Jeffrey Donaldson announced that his party will vote against it when the Government presents the Windsor agreement to Parliament. This pact abolished almost all customs controls between Northern Ireland and the rest of Great Britain, without imposing borders on the island of Ireland. When signing it, Rishi Sunak said he was in the clouds. Unionists want him to put his feet back on the ground.
---
---