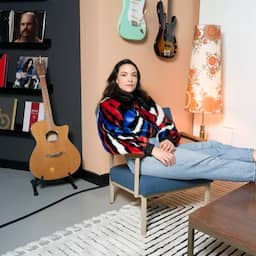 As Caro Emerald, singer Caroline van der Leeuw (41) was internationally successful with jazzy pop songs. Under the name The Jordan, she takes a completely new direction. On Thursday she will perform in Paradiso.
This article comes from Het Parool. Every day a selection of the best articles from the newspapers and magazines appears on NU.nl. You can read more about that here.
We have agreed in the Conservatorium Hotel in South. Caroline van der Leeuw knows the building from the time when the Conservatorium van Amsterdam was still located there and she did jazz singing there. As chic and cosmopolitan as it is today, the building was so decrepit in its time.
"It was really ugly inside. There was also a very heavy atmosphere. In classical music you had students who came in with their violin in the morning and only left in the evening. They were studying all day. Everyone was very ambitious , it was a bit of a tortured existence."
In the second year of the conservatory she became overwrought. "I was gone for a year. When I reported again, they said: 'We thought: we will never see them again.'"
Not long after her graduation, producers David Schreurs and Jan van Wieringen asked her to sing the song Back It Up. The song was the start of an international success career in 2009 under the name Caro Emerald.
All of Europe fell for her. And really all of Europe, including the United Kingdom, which is so difficult to conquer. Caro Emerald was on the main stage at Glastonbury and managed to sell out London's Royal Albert Hall three nights in a row.
A Dutch singer can hardly be more successful. Still, Van der Leeuw was not happy with it. As The Jordan, she is now taking a whole new path. The Jordan's recently released debut album, Nowhere Near the Sky, does not contain light-hearted jazz pop, but serious music in the style of Portishead and Lana del Rey.
In het nummer Naked in the Sun zingt u: 'I'm so tired of the bullshit, the big hits, the same trick'. Het is nogal een statement.
"I had no intention of writing something like that at all, but it suddenly came out. I doubted whether I should sing it. It felt like the core of what it was about. I didn't feel like expressing myself carefully anymore . So I thought: I'll just leave it in, we'll know what it's about right away."
Was it that bad?
"More people are asking that now. It wasn't that bad, but I was frustrated. I couldn't do what I wanted, there was no room for that. And that made it worse."
You were Caro Emerald from 2009. When did it start pinching?
"That went super gradually. I am not a songwriter in principle, I thought for a long time that I couldn't do it. But once the great success was there, I also started writing. I got my own ideas, made completely different songs. But when Caro Emerald, I couldn't do anything with that. Caro was essentially a group: the production team and me. I knew: what I build here, I can never take with me. If I want something different, I have to start all over again."
Was Caro Emerald a role?
"No. Well, eventually yes. If it had been up to me it wouldn't have been a role, but I didn't decide that alone. I wanted to write about myself, when that wasn't possible, I parked that wish. Emotionally I went distance yourself a bit from Caro Emerald. That's how it became a kind of role."
Tell us about the moment when David Schreurs and Jan van Wieringen played Back It Up for the first time.
"I was supposed to sing a demo version of Back It Up, which they could pitch to artists. It was such a cool song. I said: 'This is a hit, you really need a big artist here when searching.' But I became it. Back It Up did something to me. I suddenly sang very cool. It was a magical combination."
What had you sung until then?
"Especially covers, in all kinds of bands. Old soul, Motown, jazz. I also rented myself out to weddings. With other singers I formed Les Elles, we sang close harmony. At such a wedding we sang 'their' song for the bridal couple in six voices . It was fine, but not comparable to Caro Emerald. Back It Up immediately became a hit, A Night Like This then headlined it completely. It all happened very quickly. And the success was also international, we had it really didn't see it coming."
If you had seen it coming, would you have done things differently?
"It is an illusion that you can send something like that. It happens to you. You just have to blow along."
Now you have started all over again. That would have taken courage.
"Yes. It's by far the bravest thing I've done in my life. I also wanted to be brave, I wanted to be able to look myself in the eye."
Were there people who tried to talk you out of a new career?
"No. There were people who said: well, that will be difficult."
How did the home front react?
"My friend is very enthusiastic. He is really proud. Our daughters are still young, so they have no opinion about it. My friend works in youth care, a completely different world. He has nothing to do with glamor or status. I don't actually Success is not just about sales figures, it's not about money, in music you have to be mainly concerned with the content, making good things."
You've come off well financially, haven't you?
"Certainly. That was all well arranged. That has also ensured that I can now take this step. I am financially independent. For the time being."
Why do you call yourself The Jordan?
"It sounds like a group, I know. It works with The Weeknd, so I hope it does with me too. After Caro Emerald, it was difficult for me to adopt a female singer's name again. The other way around would have been more ideal. So first something that had sounded like a group and now a person's name."
The name The Jordan is inspired by the Amsterdam neighborhood where you grew up. Where did you live in the Jordaan?
"On the Rozengracht, right in the middle."
What kind of litter are you from?
"Quite academic. That was mainly due to my father, who was a university lecturer in philosophy. My mother also worked at the UvA, but as a secretary. She did not come from an academic environment. Her father worked for an oil company in Aruba."
Your mother is Antillean?
"It is a bit complicated. She was born in the Antilles, but her parents came from Surinam. Are you Antillean or Surinamese? She came here when she was thirteen or so. She is completely Dutch, also speaks without an accent. My upbringing was Dutch, I would have liked to get more of my mother's background."
What kind of music was there at home?
"Classical especially, also a bit academic. I didn't like it. As a child I loved Abba and Madonna. Later I became an alto. My friends loved rock and metal, I acted tougher than I was in that area I also liked Nirvana, but secretly I loved Mariah Carey a lot. Not cool at all, but what a good singer."
What do David Schreurs and Jan van Wieringen actually think of The Jordan, do you know?
"Yes, we are on speaking terms. They responded nicely: 'Nice job.' But I have not spoken to them very extensively about it. I do not need a substantive opinion from them either. I just wanted to get rid of that. "
---
---