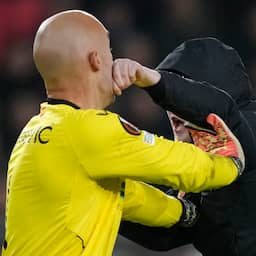 PSV has handed out a stadium ban of forty years to the supporter who attacked the goalkeeper of Seville last month. The club from Eindhoven is also starting a procedure to recover the damage from twenty-year-old Dylano K.
At the beginning of this month, the supporter from Roermond was already sentenced to three months in prison, one of which was suspended. In addition, he is not allowed to go in the vicinity of the Philips Stadium for the next two years.
K. misbehaved at the end of February by entering the field in the final phase of PSV's Europa League match against Sevilla and attacking Sevilla keeper Marko Dmitrovic. The goalkeeper defended himself bravely and got the supporter to the ground. He was then taken away by the stewards.
It later turned out that K. should not have been present in the Philips Stadium at all, because he has a stadium ban. General manager Marcel Brands said he was ashamed and called the incident "unworthy of PSV".
This message is being supplemented.
---
---