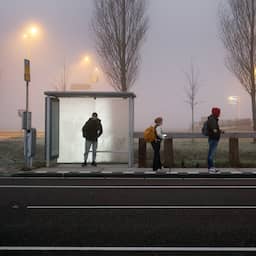 ---
March 20, 2023 at 4:59 p.m
The strikes in regional transport have been suspended for a number of days. Two scouts are trying to get the collective labor agreement negotiations going again. There should be more clarity on Wednesday.
"It is still too early to say anything about that. We are quietly engaged in the talks and hope to provide clarity about this soon," says former chairman Han Busker of the trade union FNV.
Together with former director Harry van de Kraats of employers' association AWVN, he has been appointed as a scout to rescue the deadlocked collective labor agreement negotiations. Busker does not want to say too much about it, because the talks are still ongoing. It is not the first time that scouts have been appointed when employers and unions cannot come to an agreement.
This is now necessary in regional transport. None of the parties wants to compromise. The unions demand a wage increase of 14 percent, while the employers do not want to go beyond 11 percent. Furthermore, the parties cannot agree on schedules, breaks and the approach to work pressure.
'MBO even arranged its own transport, so that students could go to school'
According to the Association of Public Transport Employers (VWOV), which represents companies such as Arriva, EBS, Keolis Nederland, RET, Transdev and Qbuzz, talks will take place on Wednesday in which all parties are represented. "Then they will make a report on how we will proceed," says a spokesman.
The VWOV also states that the strikes of recent times have had a major impact on travelers. "The MBO even arranged its own transport, so that students could go to school. That says it all. The strikes were also very different regionally, but it did cause many problems for travelers."
The last strikes in regional transport took place last Wednesday during the elections for the Provincial Council.
---
---