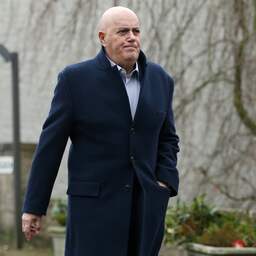 ---
Mar 20, 2023 at 8:17 PMUpdate: 4 minutes ago
Jack van Gelder says nothing about an unsafe working atmosphere within NOS Sport. The former football commentator returned on Monday evening after a week's absence as a table guest at HLF8. Van Gelder responded for the first time to the abuses that de Volkskrant published an extensive investigation about a week and a half ago.
Van Gelder "does not recognize himself at all" in the stories reported about the toxic working atmosphere that would prevail within the sports editors of the NOS. "I was never in the editorial office. I didn't even have my own desk. I was in a separate corner with my guests," says the presenter, who worked for NOS until 2015.
The regular HLF8 table guest was not featured in the program for a week. "I took a moment to process everything and think carefully."
The football analyst thinks it is a bad thing that his photo was placed with articles about the abuses at NOS Sport, in which the behavior of Tom Egbers in particular was extensively discussed. A day before the Volkskrant article appeared, Van Gelder already acknowledged that two reports had been made about him. There were already rumors that Van Gelder would also appear in the announced article.
One report related to an incident in which a female colleague called him in 2011 or 2012 while he was taking a bath. She then asked if I wanted to be her mentor. "And then I would have said, 'If you want to join me in the bath, fine.' That's a joke to me, but it hit her pretty hard, it turns out," the presenter told HLF8 at the time. Van Gelder said he apologized for this comment.
In another incident, the presenter is said to have used "whore or other terms" to a female colleague. Van Gelder will not elaborate on this in HLF8 on Monday evening. "I've said exactly how I feel about it. Other than that, it's done."
The presenter says he has had no contact with former colleague Egbers. He hopes that the announced external investigation will show "what went wrong". "But if the editors-in-chief had intervened and taken the complaints seriously, a lot could have been prevented." The editor-in-chief of NOS Sport has since stopped.
Egbers will not return to TV for the time being
Unlike Van Gelder, Tom Egbers will not return to television in the coming months. In the Volkskrant article it was written that he is one of the people who caused an unsafe working atmosphere at the NOS Sport editorial staff.
He would also have had an affair with a younger colleague and intimidated her after the affair. Egbers denies this, he argues that he and his family were bullied by her. He says he only kissed the woman.
In total, almost two hundred complaints were submitted about the working atmosphere at the sports editors. These were not only about bullying and (sexual) intimidation, but also about discrimination and verbal aggression. Egbers therefore admitted that the culture at NOS Sport "has to change".
Receive notifications of important news about abuses within NOS SportStay informed with notifications
---
---