---
Mar 20, 2023 at 06:34Update: 6 minutes ago
After the historic 2-3 victory over Ajax, Feyenoord coach Arne Slot can no longer deny that his team is the big favorite for the national title. But even after a dream week, the 44-year-old coach happily leaves the bravura to the arch-rival from Amsterdam.
Amidst the festivities in the dressing room of the Johan Cruijff ArenA, Slot has an important message for his players before he won't see most of them for nearly two weeks due to the international break.
"I have informed the boys that they have a responsibility to stay fit for the next two weeks," said the Feyenoord trainer at his press conference. "And that they have to realize that they have to keep working just as hard as they did today. If that works out, we will be in a very good position in the title fight. But even then we know that we still have eight games to play."
Receive notifications of important developments around FeyenoordStay informed with notifications
Call it typical trainer talk. But above all it is typical Slot. Don't expect any bold predictions about the battle for the championship or jabs at the competition from the former midfielder. Not even after a week in which Feyenoord reached the quarter-finals of the Europa League/UEFA Cup for the first time in 21 years and won a Classic in Amsterdam for the first time in 18 years.
"I cannot deny that we are in pole position for the title," says Slot. "We are first with a nice lead of six points over Ajax. But today we also needed the final phase to win (Lutsharel Geertruida made the decisive 2-3 in the 86th minute, ed.)."
"That's no shame against Ajax, but almost all our matches follow that pattern. So we know what we have to do to keep winning: work incredibly hard."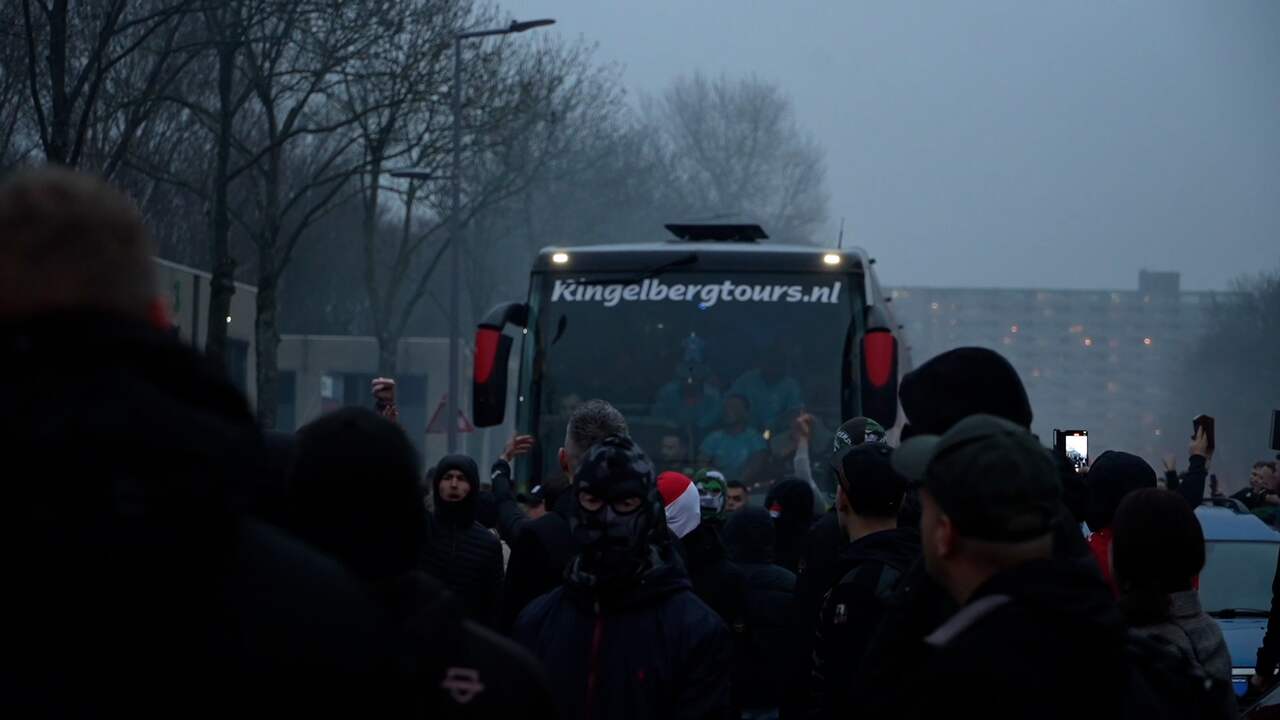 0:30 Play button
Slot has no problems with Ajax's 'swagger'
Orkun Kökçü has to say something shortly after the victory over Ajax. "I'm done with them saying they're the best all day long," said the Feyenoord captain in front of ESPN's camera. "We are different: not words, but deeds. We showed that again today."
Kökcü had been particularly annoyed by John Heitinga's words. The Ajax coach said a week before the Classic – after a 2-4 win over sc Heerenveen – that his team was "of course the favorite" for the home game against Feyenoord. That statement fits with what Heitinga said in a Sunday morning open letter called "swagger" to the Ajax supporters. "It's chest out, chin up," wrote the child of the Amsterdam club.
Slot has no problem with the texts or self-confidence of his Ajax colleague. "The fact that things like this come along for such a match is part of the game that we all enjoy immensely," says the Feyenoord coach.
He just doesn't intend to join the verbal warfare himself. "As coaches, we are mainly concerned with what Feyenoord needs to win a match. Not with comments that are made left and right."
"At the front, the opponent's statements may have provided some extra motivation. But I don't think the players thought about that during the game. I certainly didn't."
Standing in the top of the Eredivisie
Feyenoord 26-61 (+34) Ajax 26-55 (+44) PSV 26-53 (+36) AZ 26-53 (+22) FC Twente 26-47 (+22) Sparta 26-46 (+14)

---
---