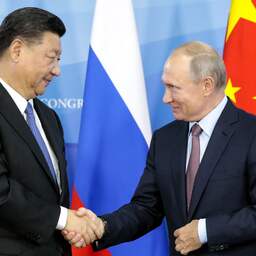 ---
March 20, 2023 at 05:39
Chinese President Xi Jinping will travel to Russia for the first time since the Russian invasion of Ukraine on Monday. He speaks to his Russian counterpart Vladimir Putin about, among other things, the war and cooperation between the two countries. The state visit officially lasts until Wednesday.
Xi was last in Russia in mid-2019. Putin visited China early last year just before his army invaded Ukraine. He attended the opening ceremony of the Winter Olympics in Beijing. The presidents then entered into a partnership "without borders". The two met again for the first time in September at a regional summit in Uzbekistan.
The leaders, according to the Kremlin, will talk about deepening partnership and "strategic cooperation" between the countries, including at the international level.
It is expected that they will also discuss the peace plan that China recently shared about ending the war in Ukraine, to which Kyiv has reacted negatively.
According to international media, Xi also wants to call Ukrainian President Volodymyr Zelensky after the visit to Russia, but China has not confirmed this.
China is trying to be neutral on Ukraine, but critics say Beijing tacitly approves of the Russian invasion. The West hopes that the Chinese will use their influence to convince Putin to end the war. At the same time, the West fears that China will supply Russia with weapons.
---
---