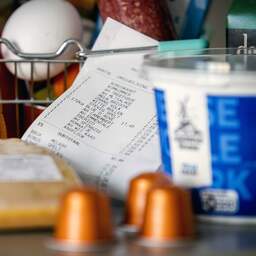 ---
March 19, 2023 at 05:00
The rise in wages is driving inflation in the Netherlands. Many companies pass on the higher wage costs to the consumer. This means that certain products and services will become more expensive. "The higher wages are having an increasing impact on price increases. That is clear," says economist Hugo Erken of RaboResearch.
Inflation in February was 8 percent, which is higher than in January, according to figures from Statistics Netherlands. Food and drink in particular have become more expensive, but higher wage costs are starting to play an increasingly important role.
The unions are putting strong wage demands on the table to compensate for the loss of purchasing power of employees. Wages rose by an average of 5.8 percent in January and by more than 7 percent in February. In March, the intermediate position is an increase of 8 percent.
Employers' association AWVN previously stated that this trend will continue. The average wage increase on an annual basis now amounts to 6.1 percent, which is historically high.
"We see that wage costs are largely passed on. That is also why core inflation – which does not include food and energy prices – continues to rise. And wages are rising rapidly. We therefore estimate in our on an inflation of 5 percent for this year, which means that the inflation rate remains on the high side," says Erken.
'Prices in particular in the services sector'
According to economist Aggie van Huisseling of ABN AMRO, the wage increases are an additional motive for price increases in the service sector, such as trade, transport and the hotel and catering industry. These companies are often labour-intensive. "We therefore do not expect any major relief in services inflation in the coming period."
Last year, inflation was mainly driven by high energy prices. This is not the case at the moment, because the government has taken various support measures. "The increase in energy prices has been contained reasonably well. Relatively speaking, they will make a negative contribution to inflation this year," Erken expects.
There is no such thing as a wage-price spiral
If higher wage costs are passed on in prices and the higher prices then lead to higher wage demands, a wage-price spiral can arise. "But it doesn't run that fast," emphasizes Van Huisseling. "There are still many companies that have room to increase wages without passing on costs."
The European Central Bank (ECB) has also raised interest rates again. This time to 3 percent. "That reduces demand, which cools the economy. In the long term, this ultimately leads to lower inflation."
---
---