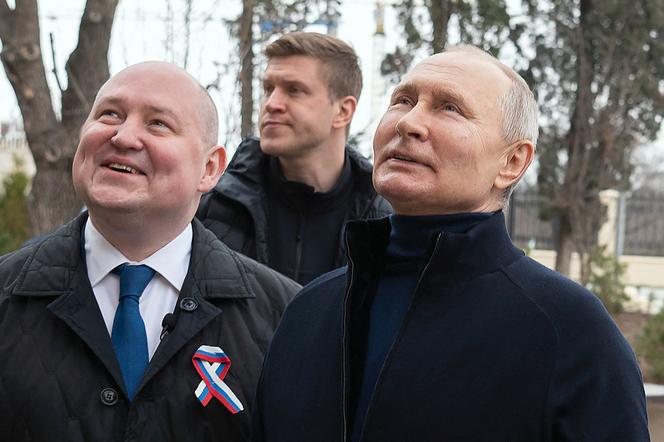 Sevastopol Governor Mikhail Razvojayev (left) and Vladimir Putin at the Chersonesos Taurica Historical and Archaeological Park in Sevastopol on March 18, 2023. HANDOUT / RUSSIAN PRESIDENTIAL PRESS OFFICE / AFP
As a challenge to the international arrest warrant which was issued against him on Friday March 17 by the International Criminal Court (ICC), Vladimir Putin went to Mariupol on Saturday March 18, "for a working visit", reported , Russian media, including the Tass agency, on Sunday.
This is the Russian leader's first trip to this Ukrainian port city besieged for months and taken by the Russian army in May 2022. The Russian president had already made a surprise visit to Crimea on Saturday, the peninsula annexed by the Russia in 2014, on the 9th anniversary of annexation.
According to the Kremlin, Vladimir Putin flew to Mariupol by helicopter and toured the city, driving a car himself. He spoke with residents, visited places of interest and was presented with a report on the reconstruction works of this devastated city, according to the same source.
Read also: War in Ukraine, live: Putin visited Mariupol, occupied by Russian forces, says the Tass agency
Vladimir Putin was therefore also in Crimea on Saturday. This is the Kremlin master's first trip to Crimea since the outbreak of the Russian offensive in Ukraine on February 24, 2022.
"Crimea is Russian"
Arrived in Sevastopol, home port of the Russian Black Sea Fleet, Mr. Putin notably attended the inauguration ceremony of a school of arts for children in the company of the local governor, Mikhail Razvojayev, according to the images broadcast by the public television channel Rossia-1. Russia annexed Crimea on March 18, 2014, following a referendum not recognized by kyiv and the international community.
If the Ukrainian President, Volodymyr Zelensky, affirmed in January that he intended to take back Crimea – "our land" – by arms, Moscow continues to hammer home that "Crimea is Russian", refusing to make it the subject of possible peace negotiations.
Vladimir Putin, whose last visit to Crimea dates back to November 2021, has been targeted since Friday by an arrest warrant issued by the ICC, which accuses him of a war crime of "illegal deportation" of Ukrainian children.
The Kremlin has ruled the warrant "null and void", the issuance of which was announced the same day Moscow and Beijing unveiled Chinese leader Xi Jinping's visit to Russia next week, which is supposed to usher in a "new era" in relations between two allies.
Read also: Article reserved for our subscribers War in Ukraine: why the ICC issued an arrest warrant against Vladimir Putin
---
---