After years of muddling through in the margins, Fernando Alonso is back at the top of Formula 1. The 41-year-old Spaniard was often criticized in his career for the wrong choices he made in his career, but seems to be right on target with Aston Martin to have shot. A story about how Alonso returned to the top.
With his third place at the opening race in Bahrain, Alonso was the only driver two weeks ago to take the podium alongside Red Bull drivers Max Verstappen and Sergio Pérez. Moreover, his third place had not come about by luck. Had he had a better start, he probably would have finished even closer to the winning Red Bull duo.
It has been a long time since Alonso has been able to compete with the fastest drivers in the Formula 1 field without luck. At the Grand Prix of Spain in 2013, he booked his last victory as a Ferrari driver. He competed for the world title for the last time a year earlier.
It has been seventeen years since Alonso won his last world title. Formula 1 is in the Schumacher era in which the German drives the entire field in a pile with apparently playful ease. The arrival of young Alonso is exactly what Formula 1 needs. He is outspoken, lightning fast and unafraid to take on Schumacher both on and off the track.
This makes Alonso the only driver who can say he could beat Schumacher in his heyday as a Ferrari driver. The teams are lining up for him, but even before the start of the 2006 season – the year in which he secures his second title as a Renault driver – he announces that he will be joining McLaren at the end of that year.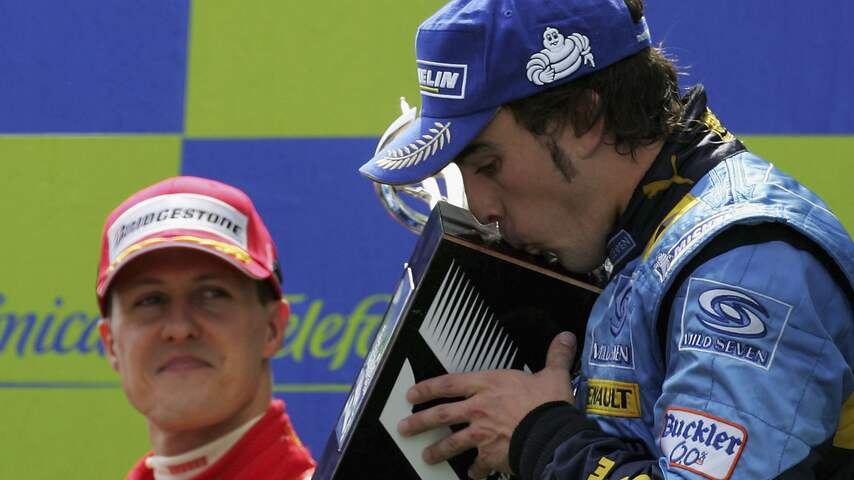 Fernando Alonso is one of the few drivers to beat Michael Schumacher in his heyday. Photo: Getty Images
2007: Alonso clashes with teammate Hamilton at McLaren
The choice for McLaren is a very logical one for Alonso on paper. The two-time world champion must lead the team and can be a great teacher for his young debuting teammate: Lewis Hamilton.
Everything is different. Top talent Hamilton has been at Alonso's level from his first race and is a direct competitor for his Spanish teammate in his first season. Hamilton and Alonso can no longer air or see each other during the season.
Team boss Ron Dennis has to meet with his drivers on a weekly basis to ensure that their escapades do not get out of hand. There are stories that Alonso has even hired a private detective to ensure that he and Hamilton have the same equipment in the garage.
When McLaren has missed out on the title – Alonso and Hamilton are one point short of beating Ferrari driver Kimi Räikkönen – Alonso's multi-year contract is torn up by Dennis. The driver from Oviedo then decides to go back to his former love Renault.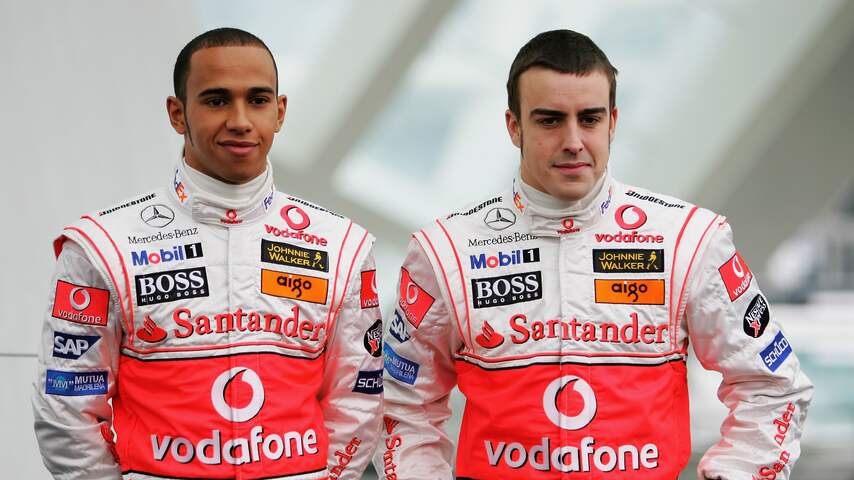 Lewis Hamilton and Fernando Alonso couldn't get along or see each other at McLaren. Photo: Getty Images
Failed return to old love Renault in 2008 and 2009
How does a driver actually do that: choose a new team? According to Ho-Pin Tung, who raced against Alonso in the World Endurance Championship, it's not all about the speed of the car. "You can see from the choices Alonso has made in his career that he also finds the feeling around a team very important," says Tung, who was appointed Renault test driver in 2010.
"It's not for nothing that he returned to 'Team Enstone' twice in his career, first Renault and later Alpine. He knows the people and the facilities there at the factory very well. Some drivers find it very important to be in a familiar environment. to work."
That familiar environment does not help Alonso to impress in 2008 and 2009. He has to settle for a supporting role and is only sporadically on stage. In 2009 he can only go to the podium in Singapore (third). He finished ninth in the championship that year with just 26 points.
Fernando Alonso couldn't break much on his return to Renault. Photo: Getty Images
Alonso misses title at Ferrari, return to McLaren fails
There are few drivers who reject a contract with Ferrari. Fernando Alonso is also tempted in 2010 to drive for the team from Maranello. Although it seems in retrospect that his Italian adventure has failed miserably – Alonso remains titleless in five seasons – that is not entirely true. In 2010 and 2012 he is four points short of keeping Sebastian Vettel from the world title.
This also makes Alonso's choice for Ferrari justifiable from a sporting point of view, since he does have material to fight for the title. The arrival of the new team boss Marco Mattiacci – with whom Alonso cannot go through one door – in combination with the mediocre performance of Ferrari, ensures that Alonso decides to move at the end of 2014. He signs a million-dollar contract with McLaren that has teamed up with the new engine supplier Honda.
The marriage between McLaren, Honda and Alonso ends in unmitigated disaster. Honda, which achieved great success with McLaren in the late eighties and early nineties, is far from ready to compete with the top manufacturers in Formula 1. The McLaren-Honda is unreliable and, moreover, much too slow.
"It was a pity for Alonso," says Tung, who could somewhat understand the choice for McLaren. "He really didn't do that just for the money. On paper, the collaboration between McLaren and Honda looked good. And there was also potential. When Honda left McLaren and teamed up with Red Bull, they immediately won races. "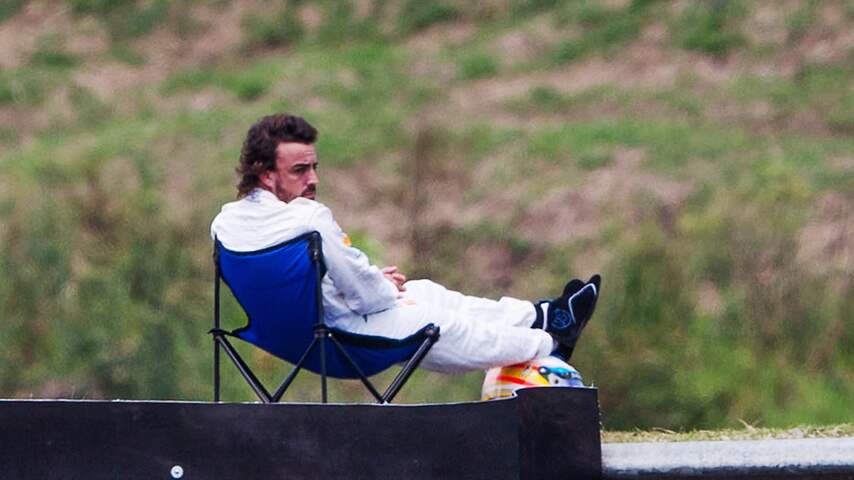 Fernando Alonso can be found off track more often than on track in 2015. Photo: Getty Images
'Very nice' Alonso leaves Formula 1
For Alonso, his failed adventure at McLaren is the reason to say goodbye to Formula 1 for the time being. He will race in the World Endurance Championship and win the prestigious 24 Hours of Le Mans with Toyota in 2018 and 2019, in which he will race against Tung, among others.
According to Tung, who was in regular contact with Alonso at the time, the image of a tough Alonso who is difficult to handle both on and off track is incorrect. "He's a very nice guy. The motorsport world isn't that big and he's one of the few guys who always says hello to you and comes over for a chat when he sees you. That also happened last year when I interviewed him for Viaplay and hadn't seen him in a while. He's genuinely interested in how you're doing."
Despite his successes in long-distance racing, Alonso cannot let go of Formula 1 and will sign for the third time in early 2021 with 'Team Enstone', which will then go through life as Alpine. That is again not successful. With only one podium spot, he plays a minimal supporting role in his return to the premier class.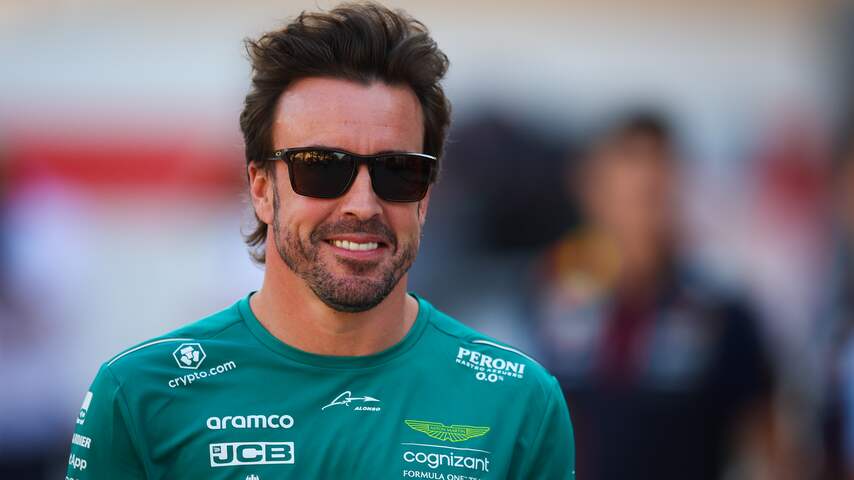 Fernando Alonso is back at the top at Aston Martin. Photo: Getty Images
Alonso surprises with Aston Martin and seems to choose well
Just days after Sebastian Vettel announces his retirement, Aston Martin announces that the German's departure will be met with another multiple world champion. Compared to Alpine, that seems to be a step backwards based on recent seasons, but Alonso has already silenced all his critics after one race.
"Of course Alonso will have nothing to complain about financially, but I can imagine that he also made this switch on feeling," Tung analyzes. "At Alpine he was no longer the big star within the team. He sat next to Esteban Ocon, who had been stuck for several years. And top talent Oscar Piastri was also under contract with Alpine at that time."
At Aston Martin, Alonso is again the great leader within the team, although he does have a complex teammate next to him in Lance Stroll – the son of team owner Lawrence Stroll. But over an entire season, Alonso will have to pull the cart, especially with a team that is capable of winning races.
Tung is confident that Alonso still has the qualities to challenge for the title, provided he has the right equipment. "He already showed that during the race in Bahrain. Not only does he have the speed over one lap, but he can still race very well."
Alonso impressed again on Saturday during qualifying for the Saudi Arabian Grand Prix by finishing third. A grid penalty from Charles Leclerc even moves him up to second on the grid, behind pole sitter Sergio Pérez. The Grand Prix of Saudi Arabia starts on Sunday at 6 p.m. (Dutch time).
---
---