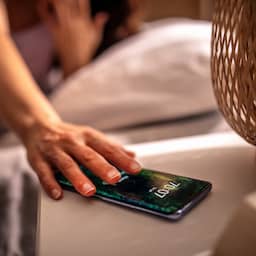 The clock is changed twice a year. Although many people say they don't notice much of this, it does have consequences for your biological clock. We asked experts what that means and what you can do to prevent a lack of good sleep.
It's that time again on the last Sunday of March. Then the clock goes forward one hour and that means an hour less sleep. "An hour doesn't seem like much, but it's quite a lot when you consider that the average sleep duration is between seven and eight hours," says Marijke Gordijn, director of [email protected] and human chronobiology researcher at the University of Groningen.
Your biological clock is the area in your brain that tells you when to go to sleep. It is located above where the optic nerves meet, in the hypothalamus. "Furthermore, that part of your brain is responsible for your sleep-wake rhythm. It determines whether you are a morning or evening person," explains sleep psychologist Helmy Pluis.
The clock has a rhythm of about 24 hours and is, as it were, equated with the rising and setting of the sun. "Sometimes it's just a little out of sync and it can take a little longer or shorter. That's because your biological rhythm depends on the characteristics of your biological clock and the moment daylight shines in your eyes," says Curtain.
You may find it more difficult to fall asleep
If we change our watch, we do not immediately change anything about the moment we come into contact with daylight. "Getting up earlier means that you have to go against your biological clock," the researcher continues. "Most people manage to adjust their behavior and thus the times at which they see daylight. But for people with a slower running clock that is a bit more difficult."
---
Actually, you should start this weekend by going to bed ten or fifteen minutes earlier and getting up earlier.
Marijke Curtain, chronobiologist
---
"They naturally tend to go to bed later. They are evening people. They really need that morning light to wake up and speed up their biological clock." Pluis adds: "Some people have problems falling asleep at the new time or are very sleepy during the day. This is because the winter time functioned well for their biological clock and the new time did not."
Start going to bed earlier now
For this group it is good to know that reaching a new biological rhythm takes time. "That's why you should actually start this weekend by going to bed ten or fifteen minutes earlier and getting up earlier," says Curtain. "And look for more daylight immediately after getting up, but also throughout the day."
Tips from sleep psychologist Helmy Pluis
Go to bed at the same time in summer time as in winter time. Make sure you start the day with a good breakfast and that you eat regularly. If you wear sunglasses during the day and watch TV at night, your biological clock gets confused. Therefore try to wear your sunglasses little or not at all and reduce your exposure to blue light earlier in the evening.
For some time now, there have been calls in the European Union to abolish summer or winter time. Both experts believe that daylight saving time is not the ideal time limit for us. "That would mean that people spend too long mornings in the dark in the winter. Too little light can lead to sleep problems and depression," says Pluis.
Living in our own time zone is even better
Curtain is part of a partnership that advocates a healthier policy. "We try to convince people of the importance of each country living in its own time zone. Winter time as standard time would be better for our health because we would be better synchronized with the alternation of light and dark. But it would be even better if we would live in our own time zone and use Western European time."
It is unclear when the European member states will make a decision, but Curtain believes that the issue is not being taken seriously enough. "It's not about a few nights in which you might sleep less, someone can suffer from this for weeks. In the short term it can make you feel less well, in the long term it causes more heart attacks and more accidents on the road due to fatigue and sleep deprivation."
---
---