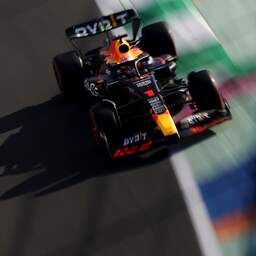 ---
March 19, 2023 at 07:55
Work to be done for Max Verstappen. On Sunday he will start the Grand Prix of Saudi Arabia from fifteenth place. Last season he showed that he can win from a seemingly impossible position. The weapon with which the reigning world champion achieved this is still in his arsenal.
The fifteenth starting place does represent a new challenge for Verstappen. The Limburger won the Hungarian Grand Prix last year from tenth place, while in Belgium he even triumphed from fourteenth on the grid.
"Overtaking is a bit more difficult here," said Verstappen. "And we've seen a lot of crazy things here, so anything is possible. Although I also have to be realistic. Winning will be very difficult."
With Sergio Pérez on pole position in that other fast Red Bull, the victory indeed seems like a big task. It also has the same weapon with which Verstappen will make it difficult for further competition: the high top speed in the Red Bull RB19. In Bahrain it wasn't so clear, but on the fast street circuit along the Red Sea the car is a true beast in a straight line.
The top speeds in qualifying
Sergio Pérez (Red Bull): 337.8 km/uMax Verstappen (Red Bull): 337.5 km/uCharles Leclerc (Ferrari): 332.8 km/uCarlos Sainz (Ferrari): 332.6 km/uGeorge Russell (Mercedes) ): 330.0 km/uLewis Hamilton (Mercedes): 329.7 km/uFernando Alonso (Aston Martin): 327.8 kmu/uLance Stroll (Aston Martin): 325.0 km/u
Red Bull also loses little in the twisty first sector
The Ferraris are still somewhat close, but it should come as no surprise that the Red Bull takes most of the time in the second and third sectors. It's really about top speed. Normally a car that excels there loses time in the corners, but unfortunately for Red Bull's competitors: that is not too bad.
Pérez dominated the second and third sectors, but lost less than a tenth to the fastest man in the first sector. That was Lance Stroll. The Mexican pole sitter was faster there than the Ferraris and Mercedes and only had to let both Aston Martins ahead. There is no doubt that Verstappen would have gone a bit faster here, if his drive shaft hadn't failed.
The Dutchman therefore has the perfect car for a catch-up race, although he has to squeeze past Nico Hülkenberg (tenth), Zhou Guanyu (11th) and Kevin Magnussen (13th) quickly. This trio has a top speed that is very close to the Red Bulls, which means that a DRS train is imminent. Although history shows that Verstappen often has opponents of this category to graze in the first rounds.
Unfortunately, this content cannot be displayed. We do not have permission for the necessary cookies. Accept the cookies to view this content.
Change cookie settings
Reliability biggest threat for Red Bull
The only serious concern is the reliability of the Red Bull, which Verstappen already let down in qualifying. "There are always concerns about reliability," said Pérez, but there is certainly cause for concern. Verstappen already started on Saturday with a new gearbox, which Pérez himself had already received on Friday.
In addition, the Mexican received various new parts for his Honda engine, while sister team AlphaTauri also had some problems. There Nyck de Vries got a new power source during the third free practice. In Bahrain, there were also problems with Pérez's engine. The focus around engine problems was on Ferrari, but the list at Honda and Red Bull (which builds the gearbox itself) is also getting longer.
Pirelli expects a one-stop strategy with the start on medium and a second stint on hard to be the best option. Verstappen already wrote off the softs on Friday as a tire for the race, which will probably come into action in a late safety car situation. The one-stop strategy is prescribed with a stop between laps 18 and 24 of the 50-lap race.
The Grand Prix of Saudi Arabia starts on Sunday at 6 p.m. (Dutch time).
---
---