In the film industry, productions of the production and distribution company A24 are known for their quality. Partly for this reason, Netflix now thinks it has a gem in its hands with the A24 series Beef (2023). Netflix hopes that this collaboration will give a huge boost.
Biggest collaboration to date
A24 is best known for its horror films, but lately it has become the main topic of conversation for its Oscar-winning film. Everything Everywhere All at Once (2022). From 2014, A24 also makes television series and documentaries and is responsible for, among other things, Netflix' Mo (2022– ) in Ali Wong: Don Wong (2022), but Beef will be their biggest collaboration to date.
Traffic dispute that got out of hand
In Beef we follow a wealthy entrepreneur and a handyman who get into a heated traffic dispute. We see Ali Wong and Steven Yeun in the lead role. The series consists of 10 episodes that promise to continue the success of the partnership between Netflix and A24. The biggest success the streaming service has had with A24 to date is Uncut Gems (2019).
Netflix's reputation
Netflix has been very discredited in recent months due to the cancellation of series. Some of their biggest and most acclaimed series have not been renewed, while cheaper content, including reality shows and game shows, continues to appear. At a time when Netflix is ​​associated with low-quality content and early cancellations, putting out a quality series like Beef is of utmost importance. Beef could not only be the beginning of Netflix's reputation recovery, but could also be a harbinger of things to come.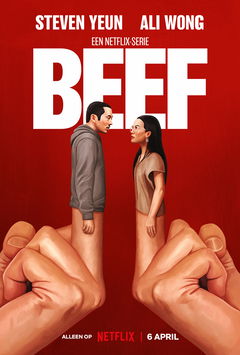 Watch on Netflix • A traffic altercation takes over the minds of two individuals. Series starring Steven Yeun and Ali Wong.
Beef is on 6 april to be seen on Netflix.
Image: Still 'Beef' via Netflix
---