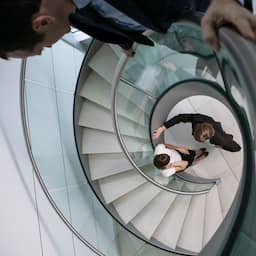 Sexual abuse can go on for years without anyone intervening. The government wants bystanders to better recognize abuse and learn how to support victims. "But not everyone wants, or is able, to face the fact that abuse actually takes place," says Iva Bicanic, director of the Center for Sexual Violence and clinical psychologist.
Why does it sometimes take so long for bystanders to recognize sexual abuse, for example in the workplace?
Bicanic: "People have their own defenses against sexual abuse. Not everyone is willing or able to face the fact that it actually takes place. Sometimes their own abuse traumas also play a role."
"If you do recognize the abuse, it also means that you have to do something. And that is exciting. Just like victims, bystanders ask themselves what the consequences of their intervention will be. What is at stake for them?"
"We should do more research into the considerations of bystanders to do nothing. But it is clear that not everyone feels up to the perpetrator. They may also be emotionally or financially dependent on the person."
What is meant by 'bystanders'?
By bystanders we mean witnesses and people who are around victims of sexual abuse. Someone who is confided in by the victim is also called a bystander.
Do bystanders have a responsibility?
Philosopher and author Susan Brison, who is also a rape victim, described it very well in her book Aftermath: 'It doesn't just take words to tell our stories. It also takes an audience with the will and the ability to to listen to it."
"Ultimately, almost everyone is directly or indirectly confronted with sexual abuse. It is not an individual problem of a victim and a perpetrator; it is a social problem. There is always a bystander."
"I sometimes compare those involved with the three wise monkeys. The monkey with the hands over the mouth represents the victim who finds it difficult to speak. The second monkey, with the hands over the eyes, represents the perpetrator who has does not want to face his own deeds. The monkey with its hands over its ears represents the bystander who does not want to hear the terrible."
---
I used to talk pretty sternly about bystanders. I blamed them for sticking their heads in the sand.
---
"As I often say, we ourselves are the biggest problem of sexual abuse. We don't want to know that it is happening. Imagine what that does to victims and perpetrators. And reflect on your own defensive reaction: where does that from?"
"Loved ones of victims can play a positive role in coping with the abuse, research shows. They value the recognition of the people they love the most."
What about bystanders actually to hear that someone you know has been abused?
"Bystanders often experience very intense emotions when confronted with stories of abuse. Disgust, powerlessness, fear, shock, sadness and disgust. But also disbelief and misunderstanding. People simply cannot imagine that other people are doing this to each other."
"They really need time to process what they've been told, especially if the perpetrator is a friendly or well-known person. Abuse is a secret and, by definition, happens in silence. It's no wonder people wonder how it's possible is that it affects so many people, while they themselves know nothing about it."
---
Please be patient as processing takes time.
---
"The first shock of people who hear the story is a very logical reflex. Those who then let it sink in often start looking at the world differently. Not so open-minded anymore. They wonder who they can still trust."
"I can understand why bystanders prefer to look away. But I also want to point out the pain of victims, who are not heard and seen."
"I used to speak quite harshly about bystanders who pretended not to see it. I blamed them for sticking their heads in the sand and victim blaming. I still say it's harmful, but now I understand their emotions and reactions better."
What is the best way for bystanders to react if someone confides in them about sexual abuse?
"By really putting yourself in the shoes of the other person, you can also feel what the person needs. Think about what is at stake for the victim. The following also applies: stay calm and listen."
"That sounds easier than it is. You may also feel all kinds of things yourself, such as anger and powerlessness. Those are normal feelings, but try not to bother the other person with them. It's not about you. Let your loved one decide for himself what he or she wants to share. And find someone yourself to talk to."
"Perhaps as a listener you are curious about the details, also to understand it better. But try not to ask about it. Rather ask, 'How was that for you and how has it affected your life?'"
"It's also nice to say: 'I'm here for you. I believe you.' Or if you can't say anything for a while: 'I'll come back to it later.' And then do that. Practical help is also always good – cooking a meal, picking up the children from school, or going to the police."
"Be patient, because processing takes time. It is also important to respect someone else's boundaries. You may need to give the other person a hug, but does the other person want that too? Check it out. And let them choose whether he or she goes to the police or not, for example. You can also suggest asking the Center for Sexual Violence to think along."
---
---