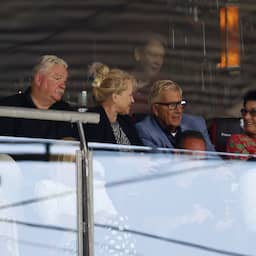 ---
Mar 18, 2023 at 9:22 PM Update: an hour ago
Frans van Seumeren raged in the dressing room of FC Utrecht on Saturday. The owner of FC Utrecht was furious after his club lost 1-2 to Go Ahead Eagles in stoppage time. Trainer Michael Silberbauer understands Van Seumeren. "He can be angry, because we are angry ourselves."
FC Utrecht lost for the third time in a row in the Eredivisie due to a late goal by Go Ahead midfielder Willum Thór Willumsson. A few weeks ago, the Domstedelingen blamed themselves in the KNVB Cup against Spakenburg, which is active in the Second Division.
The major shareholder treated the selection to a thunderous speech after the defeat against Go Ahead and then slammed the dressing room door shut. RTV Utrecht and Voetbal International, among others, report this. Players and staff reacted understandingly to the rant afterwards.
"He owns it. It's emotional right now. We're not happy with where we are," says Silberbauer. Captain Nick Viergever also understands Van Seumeren's reaction. "He is emotionally involved with the club. He can be angry, because we are angry ourselves. But we are one FC Utrecht, he also said. We have to do it together."
Van Seumeren, who amassed his wealth as director of a salvage company, became the owner of FC Utrecht in 2008. Since then he has already invested a sloppy 50 million euros in the club.
The native of Utrecht stated in 2020 at the fiftieth anniversary of FC Utrecht that his goal is to attack the top three in the Netherlands. In recent seasons, the club finished sixth and seventh in the Eredivisie. The Domstedelingen are currently seventh.
View the results, the position and the program in the Eredivisie
---
---