---
March 18, 2023 at 9:51 p.m
Mathieu van der Poel's victory in Milan-San Remo made a big impression on Saturday. Especially on its competitors. "We were not capable of what he did. The best man won today."
As is often the case, Tadej Pogacar lit the fuse in the powder keg. The Slovenian all-rounder attacked on the Poggio and was successively accompanied by Filippo Ganna, Wout van Aert and Van der Poel. "I wasn't strong enough to make a gap," said the two-time Tour winner afterwards.
It seemed that four riders would battle for victory in the closing kilometers, but Van der Poel had other thoughts. The Alpecin-Deceuninck leader accelerated within sight of the top and left his competitors behind.
"I couldn't follow him", Pogacar looked back on the Dutchman's decisive attack. "He was simply too strong and I was completely through it myself. Mathieu sprinted to the top. He also immediately hit a big gap with us."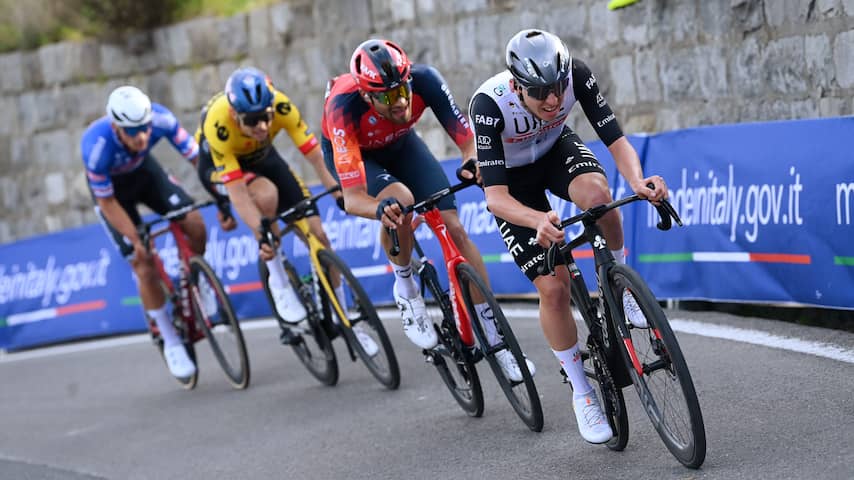 Tadej Pogacar, Filippo Ganna, Wout van Aert and Mathieu van der Poel on the Poggio. Photo: Getty Images
Van der Poel runs out in the descent
Van Aert, Pogacar and Ganna rounded the top of the Poggio together and gave chase, but Van der Poel was unleashed. The Dutchman even extended the lead over his three attackers in the descent.
"I tried to descend as quickly as possible," said Van Aert about this decisive moment. "I believed for a long time that we could come back. But in the last kilometer you know that you are only driving for the podium."
Ganna sped away from his allies in the last meters and finished second, fifteen seconds behind Van der Poel. "I'm a little bit disappointed," said the Italian. "But I also feel happy. I don't think I've done anything wrong. I've had one of my best powers ever on a bike."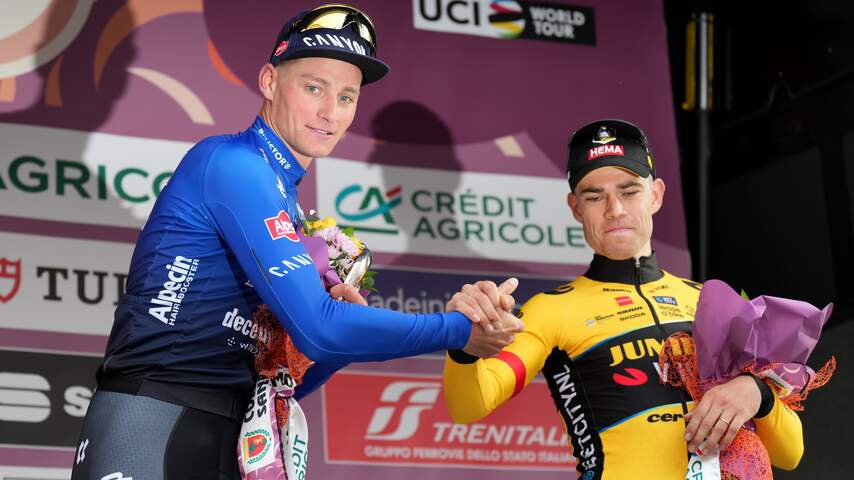 Wout van Aert congratulates Mathieu van der Poel. Photo: Getty Images
'The best man won today'
"Van der Poel was clearly the strongest today", concluded Van Aert, who eventually finished third. "Chapeau for the way he finishes this. He had a good move and placed it at an ideal time. I can live with this result."
Pogacar couldn't blame himself either. "I had one goal today, and that was to attack. But I was completely exhausted afterwards. I saw in the descent how Van der Poel sprinted through the corners. The three of us were not capable of what he did. The best guy won today."
Van Aert focuses on the near future, because with E3 Saxo Bank Classic, the next showdown with Van der Poel is imminent on Friday. "What I take with me to the upcoming races? That Van der Poel is much stronger than everyone thinks."
---
---