Netflix comes after the trailer for the soon-to-be-released seriesBeef (2023), now also with the first fragment. The release is still a few weeks away, but the production is already being discussed with great anticipation. The sneak peak is now available.
Traffic quarrel
Beef follows the aftermath of a traffic dispute between two strangers. Danny Cho, played by Steven Yeun, is a failing contractor who quickly steps on his toes and goes head-to-head with Amy Lau, played by Ali Wong, a successful entrepreneur with a colorful life. The feud grows and slowly unravels their lives and relationships. Beef promises to be both a comedy and a deeply moving series. In the clip below we see what the reason for the fight is.
Release
In addition to Wong and Yeun, the cast also includes Joseph Lee, Young Mazino, David Choe, Remy Holt and Patti Yasutake. The series consists of 10 episodes, 6 of which are directed by Jake Schreier, 3 by Hikari and 1 by Lee Sung Jin. The episodes are each about 30 minutes long and appear simultaneously on the streaming service.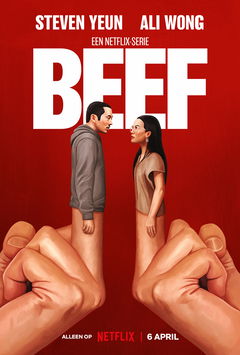 Watch on Netflix • A traffic altercation takes over the minds of two individuals. Series starring Steven Yeun and Ali Wong.
Beef is on 6 april to be seen on Netflix.
Beeld: Still 'Beef' via Netflix/Keith Bernstein
Text: Netflix
---