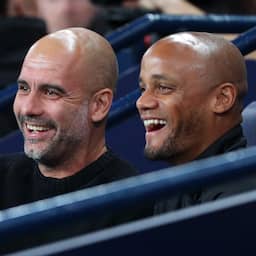 ---
March 18, 2023 at 11:47
Vincent Kompany has asked Pep Guardiola not to associate him with a future role as Manchester City manager. The current coach of Burnley will compete against the Catalan trainer in the quarter finals of the FA Cup tournament on Saturday evening.
"He has to stop," Kompany said during a press conference in the run-up to the game. "I work in the Championship."
The former defender impresses this season with Burnley, who are head and shoulders in the lead at the second highest level and are heading for promotion to the Premier League.
For Guardiola, the performance of 'The Clarets' has regularly been a reason to praise Kompany's coaching qualities, which he had under his wing as a player at Manchester City between 2016 and 2019. According to the Catalan, it is even a matter of time before Kompany works as a manager at the Etihad Stadium.
The 36-year-old Belgian himself does not want to know anything about it for the time being. "Firstly, I think Guardiola has to work for Manchester City for another ten years. And then they fight for the Champions League win, we are active in the Championship. So those comparisons make no sense. Manchester City needs the best manager in the world ."
Kompany has regular contact with Guardiola. "He helps a lot of his former players. But I also have to find my own solutions, because I work in a completely different league."
After retiring from Manchester City in 2019, Kompany joined Anderlecht, where he initially acted as a player and trainer. Later he only focused on his tasks as a coach, but Kompany was not very successful at RSCA.
Program quarter-finals FA Cup:
Saturday, 6.45pm: Manchester City-Burnley Sunday, 1pm: Sheffield United-Blackburn Rovers Sunday, 3.15pm: Brighton & Hove Albion-Grimsby Town Sunday, 5.30pm: Manchester United-Fulham
---
---