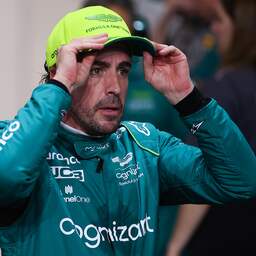 ---
Mar 18, 2023 at 9:26 PMUpdate: 26 minutes ago
Fernando Alonso traveled to Jeddah full of doubts, and wanted to know if his Aston Martin would also perform well there. That turned out to be the case. Still, the two-time champion expects to have to look to the rear during Sunday's race.
"Of course I don't want to be too pessimistic, but normally I can't beat Checo tomorrow," Alonso said on Saturday after qualifying in Saudi Arabia, where Sergio Pérez took pole. It will start on the front row next to Alonso on Sunday, after the Aston Martin driver inherited second place from Charles Leclerc.
"If you look here and in Bahrain, you have to be honest. Red Bull is ahead of everyone. We have to focus more on Ferrari and Mercedes. So our race is actually behind us," said Alonso.
The 41-year-old driver is particularly pleased that Aston Martin showed it again, on a track that is very different from the track in Bahrain. "We hadn't raced anywhere else before. The fact that we are now starting second here is very positive for us," Alonso concluded. "That was a relief."
"I also had a good lap, although we still have to work on the step we make between Q2 and Q3. There we still miss the jump that others make. But otherwise we can be happy", he looked back on his third time.
Unfortunately, this content cannot be displayed. We do not have permission for the necessary cookies. Accept the cookies to view this content.
Change cookie settings
'Nobody had put Verstappen in fifteenth place'
Alonso mainly counts on the strong race pace of the Aston Martin, which normally has to deal with the tires. "It's on those kinds of details that it's decided. Band management, the start, strategy and last but not least luck," he summed up.
"You can see it in Verstappen. Nobody would have put him in 15th place, but things like that can happen," said Alonso. "Max will come forward tomorrow, by the way. They have such an advantage. Last year he even won from a similar position, so he will get on the podium."
Should the reigning world champion turn up in Alonso's mirrors, a fierce fight is not very likely. "We said at the beginning of the year that Red Bull is not our goal. We have to make sure that as Aston Martin we finish every race in the top five and take points. That's what it's about, otherwise we're not being smart. "
The Grand Prix of Saudi Arabia starts on Sunday at 6 p.m. (Dutch time).
---
---