---
Mar 17, 2023 at 4:06 PMUpdate: 6 minutes ago
Trainer Arne Slot knows where he can hurt Ajax with his Feyenoord in The Classic. The leader of the Eredivisie will defend a three-point lead over Amsterdam's number two in the Johan Cruijff ArenA on Sunday.
"Ajax's biggest weaknesses have already been chewed up in the newspaper: standard situations and crosses from the side. That's where our opportunities lie," Slot said at his press conference on Friday. "Ajax also plays extremely offensively. So there is room in the transition, although I must say that the remaining defense is getting better and better."
Ajax coach John Heitinga caused a stir in the days after De Classic by saying that Ajax is the big favorite for victory, while Feyenoord leads the ranking in the Eredivisie. Slot did not want to express himself in similar terms.
Receive notifications of important developments around FeyenoordStay informed with notifications
The trainer of Feyenoord could enjoy Heitinga's statement. "He also said that he would only turn on in the final phase of our match against Shakhtar Donetsk, because we score so often in the final phase. That led to a lot of frustration and irritation in Rotterdam, but I think it's nice humor. won't affect the game."
Partly due to Thursday's 7-1 against Shakhtar Donetsk, Feyenoord travels with great confidence to the Johan Cruijff ArenA. "We go into every stadium like that. We can play good football and get good results for quite a long time. We do it in a right way, not in an arrogant way."
Stand at the top of the Eredivisie
1. Feyenoord 25-58 (+33)2. Ajax 25-55 (+45)3. AZ 25-53 (+23)4. PSV 25-52 (+32)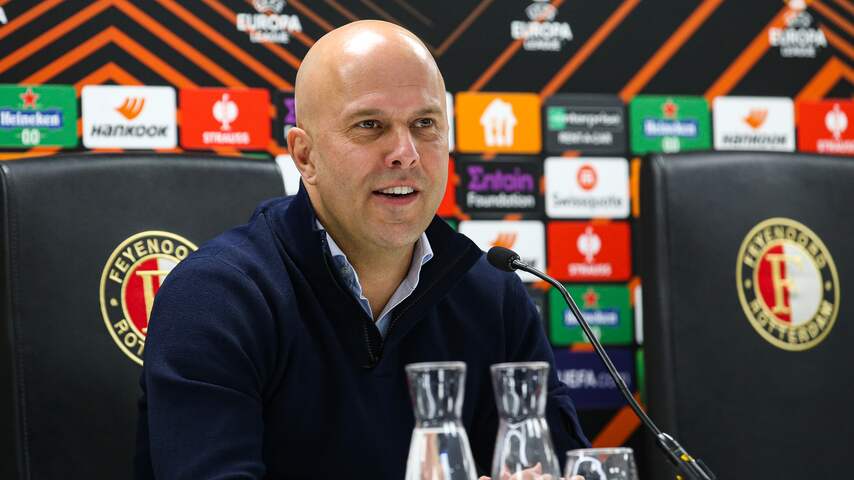 Feyenoord coach Arne Slot sees plenty of opportunities against Ajax. Photo: Pro Shots
"It's not enough in seventeen years without a win"
Feyenoord has a lousy history in away games against Ajax. Feyenoord's last victory in Amsterdam dates back to 2005, when the team from Rotterdam won 1-2 with Dirk Kuijt and Salomon Kalou.
"I don't have to convince the players of the importance of this match. That is not due to those seventeen years without a win, but to our position in the ranking and the position of Ajax. That is why this match is important," said Slot.
"Yes, seventeen years, that's so many teams and so many different trainers. Yesterday I also used the statistics for the game with Shakhtar that it was twenty years ago that Feyenoord reached the quarterfinals of the Europa League."
According to Slot, the match in Amsterdam (kick-off at 2.30 pm) is not decisive in the title race. After the game, there are still eight rounds to go in the Eredivisie. "This is not the game, that is too short-sighted. The games after that are also important. But if I can choose, I prefer to win it."
Slot expects Quilindschy Hartman and Marcos López to be available for De Classic. Hartman was absent against Shakhtar on Thursday due to a cold and his replacement López was injured in that game. That turns out to be not too bad, but on Friday he was not yet on the training field.
---
---