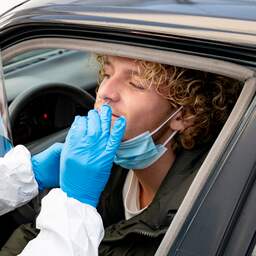 ---
March 17, 2023 at 07:53
The GGDs will stop testing for corona after Friday. Since June 2020, all people with complaints have been able to go to the GGD for a corona test. Although this means the end of the corona era, we are "never fully prepared for a new pandemic", says Moniek Pieters, national test coordinator at the GGD.
On March 10, the cabinet immediately deleted all corona rules. In addition, Minister Ernst Kuipers (Public Health) also decided that large-scale testing for corona is no longer necessary, because it no longer has any added value.
According to the OMT, corona has reached an endemic phase in our country. The disease can now be treated in the same way as flu, for example.
Anyone who wants a PCR test after Friday, for example for a trip abroad, must go to a commercial testing company.
The GGDs say goodbye to testing in Tiel, where a symbolic 'final test' will be taken on Friday. At the end of the day, all test locations close.
Sewage and hospital admissions remain under control
However, sewage checks will continue and the number of hospital admissions will be monitored. This makes it possible to detect more pathogenic or more contagious variants of the corona virus.
The vaccination locations of the GGD will remain open, although there will be no new vaccination round against corona in the spring of 2023. People with a high medical risk who have a referral from a medical specialist can still get an extra repeat injection.
People aged twelve and older who have not had a corona vaccination or repeat shot at all can still go to the GGD.
Receive notifications about coronavirus newsStay informed with notifications
'Never fully prepared for the next pandemic'
It is the end of an era full of measures, protests and lockdowns. We learned a lot from that. Nevertheless, GGDs will never be able to fully prepare for a next pandemic, says Pieters. "But they are more ready than three years ago," she says.
At the beginning of the pandemic, GGD employees visited people who may have been infected, says Pieters. "They went by car to someone's house and took a sample there. When the virus started to spread, it became clear that it had to be done on a different scale."
From June 2020, anyone with complaints could have themselves tested for corona at the GGD. "On the first day we already received 320,000 calls from people who wanted to make an appointment."
There was much criticism of the test operation. The waiting times were long before people could go for a test and the results also took days to arrive. Pieters attributes these problems to, among other things, a shortage of test material and capacity at the labs that had to analyze tests.
New virus may need different approach
Whether that would immediately improve in the event of a new pandemic, she cannot say. The GGDs did gain knowledge during the corona years. They now know a lot better how to quickly recruit a lot of people for something like large-scale testing.
In the course of the summer of 2020, they also switched to transmitting the results digitally, instead of calling everyone individually. In the event of a subsequent pandemic, the 25 GGDs will be able to work more smoothly with each other from the start, with laboratories, the Ministry of Health and employment agencies, Pieters thinks.
But she is also critical. "You never know what's coming. Suppose next time everyone has to get blood drawn for a test." There is therefore little point in holding back a stock of test material.
---
---