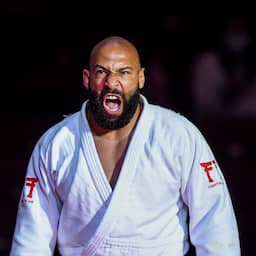 ---
Mar 17, 2023 at 3:07 PMUpdate: 3 minutes ago
Judoka Roy Meyer arrested a shoplifter this week in Rotterdam on his socks. This is what the police write in an extensive message on Instagram on Friday.
The special incident took place sometime this week on the Coolsingel, where two suspects stole about 80 euros worth of food from the supermarket. They were caught and ran off. The security guard was able to catch one shoplifter, but the other managed to escape.
Meyer, 31, was in the car with his family when he saw it all happen before his very eyes. The native of Breda, who had no shoes on, got out of his car and gave chase on socks. He succeeded in working the fleeing suspect to the ground, after which the police were able to arrest him.
"I grabbed him by his collar with one hand and swept him down with my foot," Meyer said to Rijnmond. "He lay nicely when I told him not to let me run again."
Meyer competed in the 2016 Olympic Games in Rio de Janeiro. In the summer of 2021, the heavyweight was missing at the Games in Tokyo, because Henk Grol, who has since retired, was preferred by the selection committee. In his career, Meyer took World Cup bronze twice in heavyweight, the class above 100 kilograms.
It is not the first time that Meyer has assisted the police as a civilian. Earlier this year, he intervened when someone stole beer cans in the Jumbo in Breda. "I have no fear of that. It is your responsibility to contribute to a safe society."
---
---