The horror movie Faces of Death (1978) is getting a remake with Stranger Things (2016– )-actor Dacre Montgomery in Euphoria (2019– ) star Barbie Ferreira in the lead role. Isa Mazzei and Daniel Goldhaber, the team behind the psychological thriller Cam (2018), will write and direct the film.
Dacre & Barbie
Dacre Montgomery made his breakthrough as Billy in the hit series Stranger Things playing Max's aggressive brother who was possessed by the Mind Flayer. In Power Rangers (2017) he can be seen as the red Ranger, Jason, and more recently he played Steve Binder Elvis (2022). Barbie Fereirra became known as the daring Kat Hernandez in Euphoria and can also be seen as Bailey Butler Unpregnant (2020). With her role as Nessie in Nope (2022) she also has horror experience in her pocket.
The original
Faces of Death is a 1978 horror film with a documentary style. The film tells the story of pathologist Doctor Francis B. Gröss (Michael Carr) who becomes obsessed with the transitional moment between life and death and decides to investigate it using images from around the world. The film was first released theatrically, but quickly became popular in the 1980s when it was also available on videotape. Copies were surreptitiously rented, passed on, and worn out by constant viewing.
Faces of Death was one of the first viral videotapes, and we're so lucky to be able to use it as a starting point for this exploration of cycles of violence and how they continue online.

Isa Mazzei in Daniel Goldhaber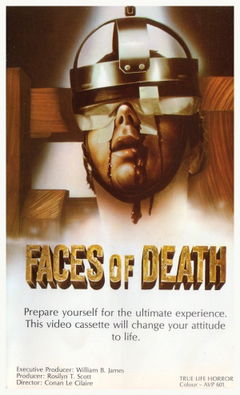 4.2
In this first documentary in a series of six, Dr. Francis B. Gröss presents the viewer with a collection of horrific death scenes, ranging from TV footage to self-recorded footage.
No release date yet
Unfortunately, as the story is still in development, there is no information yet on when the movie will be released. In any case, we are very curious about the bizarre horror film in a modern jacket, and will let you know as soon as more is known.
---