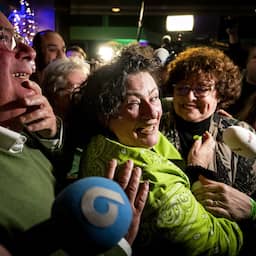 The BoerBurgerBeweging (BBB) ​​has conquered large parts of the Netherlands. The party has become the largest in all twelve provinces.
All votes have now been counted. These elections took longer than usual, so the result was delayed.
The first exit poll, which came out at 9 p.m. on Wednesday evening, already pointed to the exceptional victory of Caroline van der Plas' party. She spoke of an "overwhelming" victory. According to the party leader, it is clear "that one cannot ignore the BBB".
The party has done good business, especially in the northeast of the country. In Drenthe and Overijssel about one in three votes went to the BBB.
In Utrecht it was exciting for a long time. The province was the last to communicate the results. The BBB received 13.2 percent of the vote in Utrecht, making it the winner in all provinces. GroenLinks follows shortly after with 12.8 percent and the VVD has received 11.9 percent of the vote.
Top three parties in the provinces:
Friesland: BBB (14 seats), PvdA (5) and CDA (4) Groningen: BBB (12 seats), PvdA (5), GroenLinks (5) Drenthe: BBB (17 seats), PvdA (4) and VVD (4 ) Overijssel: BBB (17 seats), CDA (4) and VVD (4) Limburg: BBB (10 seats), PVV (6), VVD (5) Flevoland: BBB (10 seats), VVD (4), PVV ( 3) Zeeland: BBB (9 seats), PvdA/GroenLinks (6), SGP (5) North Brabant: BBB (11 seats), VVD (9), GroenLinks (5) Utrecht: BBB (7 seats), GroenLinks ( 7) and VVD (6)
BBB is also the largest in Gelderland, South Holland and North Holland, the official number of seats will follow.
---
---