---
Mar 15, 2023 at 9:27 PMUpdate: 4 hours ago
Lazio coach Maurizio Sarri was very critical of AZ's field on Wednesday. In the run-up to the crucial return in the Conference League, the Italian calls the turf in Alkmaar "unacceptable". He also did not have a good word about the playing calendar.
"The field out here is unacceptable," said 64-year-old Sarri at his press conference in the AFAS Stadium the day before the game. "I'm the only remaining dinosaur that looks at this stuff."
Sarri's sneer at AZ followed after he had launched into a tirade. The Italian said he was forced to rotate players after the "stupid" World Cup in Qatar, which was held in November and December for the first time in history and not in the summer.
"We have been playing every three days since January 4. That is crazy, football is ruined by these kinds of choices. Now I read again that the field of participants for the World Cup will consist of 48 countries. Competitions are crushed by the national teams."
"It leads to injuries, to a deterioration in the quality of the players and the entertainment in the matches. This has to change, otherwise they are all hypocritical people. But it seems to matter little."
The outspoken Sarri already delivered a sneer to Feyenoord last week. "The only thing I don't like about Dutch football are the fans of Feyenoord," said the Italian, referring to the Europa League match in De Kuip against Feyenoord. In it he had a cup of urine thrown at him.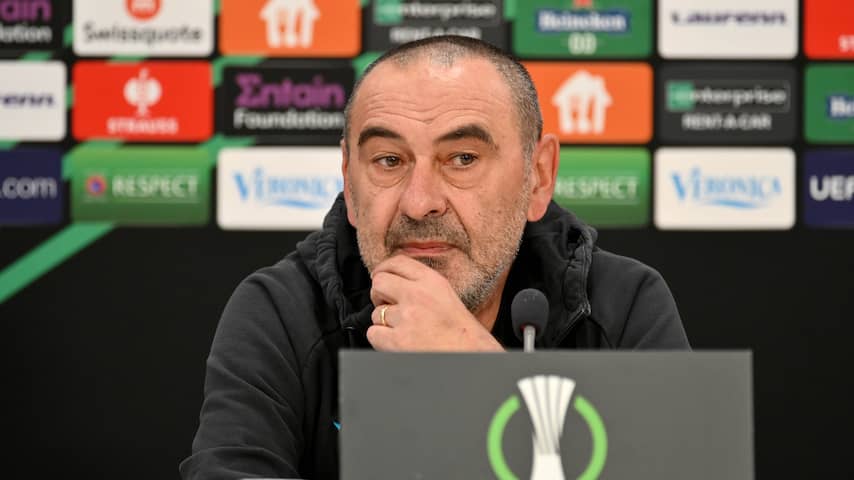 Maurizio Sarri was outspoken at his press conference. Photo: Getty Images
Does derby cast a shadow for Lazio?
Lazio will play the city derby against AS Roma in the Serie A on Sunday. For many fans, the derby already casts its shadow, but not for Sarri. Although the Italian announced that he would rotate against AZ, he wants nothing more than a place in the quarter-finals of the Conference League.
For that, Lazio has to brush away the surprising 1-2 defeat from the first leg. "Only if we are motivated can we make it to the next round," said Sarri, who is not afraid that his players are already thinking about the derby.
"Let's stop with all this nonsense and call footballers idiots. Someone who earns thousands of euros a month cannot have an excuse. He cannot find one game more important than another."
AZ-Lazio will start on Thursday at 9 p.m. Earlier in the day, Feyenoord will play in the eighth finals of the Europa League against Shakhtar Donetsk. The draw for the quarterfinals is on Friday from 1 p.m.
---
---