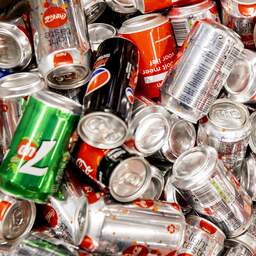 ---
March 16, 2023 at 05:12
In two weeks it will be time: after years of discussion and a few more months of delay, there will be a real deposit on cans. No less than 2.5 billion cans are sold every year, a billion more than the large and small PET bottles combined. Deposit money The Netherlands estimates that half to 70 percent of it will be handed in in the first year to get 15 euro cents back.
"Your can really does not have to be flawless to get your deposit back," says director Raymond Gianotten of Statiegeld Nederland in conversation with NU.nl. "A dent is possible, but you shouldn't stomp it flat."
Because then the intake machines, often the same as the ones in which you can now store your bottles, cannot read the barcode. The barcode indicates that you have paid a deposit for that can. You can already come across those cans here and there, but the cash registers are not yet set up in such a way that you already pay the deposit. So there is some advantage there.
"For us, the most important thing is that the cans do not end up on the street," says Gianotten diplomatically. After all, the deposit on cans and also on the approximately one and a half billion bottles and bottles was created to prevent litter and to encourage recycling.
The law stipulates that this must be done with 90 percent of metal drinking packaging. "And that must be done largely through the deposit," says the director of Statiegeld Nederland, who is responsible for implementation together with Stichting Afvalfonds Verpakkingen.
Time will tell if 15 cents is enough
Based on previous experiences with plastic bottles and the practice in other countries, scenarios have been made as to whether people will actually hand in the cans. Time will tell if those estimates are correct and if 15 cents is enough. The submission behavior is monitored and campaigns are deployed and adjustments are made if necessary.
Gianotten knows that there are several factors that determine the success of a submission. "People need to know that there is a deposit on it, you have to make it as easy as possible and the amount of the amount determines whether or not people do it."
A big difference with bottles is that they have a cap on them and cans are open. The supermarkets have resisted taking cans for some time, because it would not be hygienic. "That will play a role, but the consumer also does not want to look for a return machine with a can with leftovers in it."
The supermarkets are no longer resisting the intake and are ready for it, according to the sector organization CBL. "We are on schedule, as it stands now," says a spokesman. The cans are collected in the supermarket in a large container and then often crushed. As a result, they cannot be submitted again. It also makes a difference in transport volume.
Already cans with a deposit and after 1 April also without
There are now more than 27,000 places where you can store your bottles and soon also your cans. Cans are often bought and consumed on the go. In addition to the supermarkets, you can also hand them in at, for example, petrol stations, NS stations, cinemas and snack bars. You can do that anywhere you can buy them anyway.
Just as you can already find cans with a deposit logo, on which you do not yet pay a deposit, later there will also be cans without a logo.
"Points of sale obviously sell their stocks and don't want empty shelves either. So when the cans without a logo are gone, there are already some with them," explains Gianotten. "But it really starts on April 1, so from then on you pay a 15 eurocent deposit per can and you can also hand it in and get that amount back."
---
---