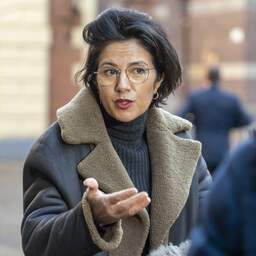 By our entertainment editors
---
Mar 15, 2023 at 3:33 PMUpdate: 44 minutes ago
State Secretary Gunay Uslu (Media) wants advice on the position of reporting center Mores. She has sent a letter to Mariëtte Hamer, government commissioner for sexually transgressive behavior and sexual violence.
Mores is a reporting center for undesirable behavior in the cultural and creative sector. But the independence of the hotline has been under discussion since the publication of an article by de Volkskrant about transgressive behavior at NOS Sport. NOS presenter Tom Egbers is mentioned in it and he is the husband of the now retired Mores chairman Janke Dekker.
Dekker announced last Sunday that he would step down immediately. She did not elaborate on the reason for her departure. According to the reporting center, the fact that Dekker's duties had already been taken over by board member Amber de Vente – now her successor – had nothing to do with the investigation into NOS Sport.
De Volkskrant wrote that Dekker did not want to respond, but the former chairman called that claim "incomplete and therefore incorrect". She would have made an appointment for an interview through her lawyer, but that would have been canceled with an "improper argument". She then decided not to answer any more written questions from the newspaper.
NU.nl made a tour of several parties affiliated with the reporting center on Wednesday. None of the interviewees thinks that the reliability of Mores is at stake.
"Now that Janke has taken a step back, I hope people feel safe enough to report to Mores," said Ron Toekook, vice president of the Dutch Association of Film and Television Makers (NBF). "I have complete confidence in Amber as successor: she keeps a good overview and is honest."
---
---