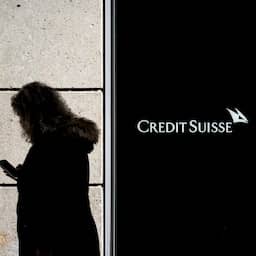 ---
March 15, 2023 at 6:39 p.m
The Amsterdam stock exchange fell again on Wednesday due to heavy price losses in the financial sector. Shares of ING, ABN AMRO and other European banks plummeted. This has everything to do with the problems at the Swiss bank Credit Suisse. What is going on?
Credit Suisse has been under pressure for some time as customers continue to withdraw money from their bank accounts. They do this because they have lost confidence in the bank. Switzerland's second-largest bank has been in the news a lot in recent months due to scandals, such as a money laundering investigation and bad investments.
The bank was hit hard on Wednesday. Credit Suisse's largest shareholder, the Saudi National Bank (SNB), announced that it could not offer any further support.
Investors sold their shares of Credit Suisse en masse. That caused shares of the Swiss bank to plummet by as much as 30 percent on Wednesday. Other financial stocks are dragged into the fall.
Investors are afraid that the problems will spread to other banks and that will lead to unrest in Europe. That is why the European Central Bank (ECB) has asked banks in the eurozone about their financial exposure to Credit Suisse, according to the American newspaper The Wall Street Journal.
The collapse of the bank can cause problems in the entire financial sector. The Swiss bank is designated as a systemic bank. That is why the bank must, among other things, maintain extra large capital buffers and have a plan for when it gets into trouble.
Still, there is no reason to panic (yet). Since the banking crisis of 2008, banks in Europe have become less intertwined. Where it used to be customary for banks to have a lot of money outstanding with each other, this is now done more via central banks.
At the same time, there is also a lot going on at banks in the United States. For example, the Silicon Valley Bank (SVB) was closed by the authorities in the US state of California on Monday. The bankruptcy has caused a lot of unrest in the financial markets. Other US banks have also had a tough time recently.
Yet the losses at Credit Suisse have nothing to do with the problems at US banks. They were hit particularly hard by the rise in interest rates. Credit Suisse is particularly affected by the aftermath of the problems that the bank itself has had in recent times.
---
---