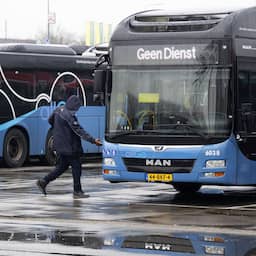 By our economics editors
---
Mar 14, 2023 at 2:59 PMUpdate: 5 minutes ago
The staff in regional transport will temporarily stop striking after Wednesday. The strike will last until next Friday. The unions want to give new negotiations with employers a chance.
The unions announced this on Tuesday at a large demonstration in Utrecht where hundreds of striking drivers are present. It was previously unclear whether the planned strike would continue during the provincial elections on Wednesday, but that is indeed the case.
FNV director Marijn van der Gaag announced earlier on Tuesday that the parties had more or less been instructed by State Secretary Vivianne Heijnen (Infrastructure) to resume talks. The minister has made scouts available to mediate between the parties.
The employers' organization VWOV also announced on Tuesday morning that it wanted to talk again. "We want to make every effort to reach an agreement," the organization said.
VWOV did set two conditions for the new talks. The organization wants no strikes during the talks and that any agreements are affordable and feasible. The unions are now responding to the first demand.
'Major impact on people who depend on public transport'
"The fact that the unions still opt for a strike on March 15 is inexplicable," says chairman Fred Kagie of the VWOV. "This has a major impact on people who depend on public transport and want to vote tomorrow, but are unable to do so independently now."
"It is up to the scouts to assess whether they see sufficient opportunities in a week to be able to start negotiations after that period. In any case, we do not actually negotiate with strikes or strike threats in the background," says Kagie. "This period therefore lends itself well to an exploration by the process supervisors and we are certainly open to that."
---
---