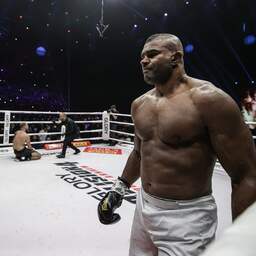 Kickboxing association GLORY has suspended Alistair Overeem for twelve months on Tuesday. The 42-year-old heavyweight is being punished for violating the doping rules.
Overeem, who has been removed from GLORY's heavyweight ranking, tested positive in October last year after his victory over Badr Hari. Since then it was waiting for the b-sample.
In November, Overeem's management spoke of "minimal traces of a non-performance-enhancing drug". However, the Dutch martial arts icon has now been suspended. It is unclear what substance it is.
His suspension is a line through the bill for Overeem, who made a controversial comeback as a kickboxer with his victory over Hari. In recent years, he has made a name for himself with the UFC, the world's largest MMA organization.
After his victory over Hari, Overeem had planned on a title fight with Rico Verhoeven, but his positive doping test quickly ended that. In addition, Verhoeven injured his knee last month.
---
---