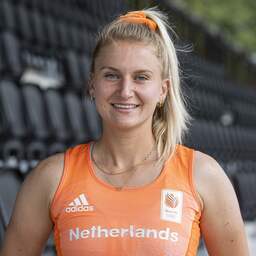 Hockey international Laurien Leurink has decided to put an end to her international career after 133 international matches. The 28-year-old SCHC player wants more time for her social career and her social life.
"I doubted it for a long time, because something as beautiful as a career in Orange will of course never come back. But I notice that my priorities are shifting," Leurink told Hockey.nl on Tuesday. "After years of sacrifice, I feel the time has come for the next step in my life."
Leurink, who became Olympic champion in Tokyo in 2021, says her doubts arose after the 2022 world championship in Spain. "The fire was still burning somewhere, so I wanted to give it a chance," says Leurink. Her last international match was the World Cup final against Argentina (3-1) in June. Leurink was good for an assist in Terrassa, Spain.
After completing national youth selections, Leurink made her debut in Orange in 2015. She scored 29 goals and 43 assists in 133 international matches. In 2016, she traveled with the team to her first Games. After the lost final against England, Leurink had to settle for a silver medal. In 2021 she did hit the mark and she won the gold medal in Tokyo.
In addition, Leurink became world champion twice and won the European title three times. "I had a fantastic time in Orange, but now it's time for a new life," Leurink concludes.
---
---