---
Mar 12, 2023 at 7:37 AMUpdate: 7 minutes ago
Xandra Velzeboer won her second individual world title in the 1,000 meters at the World Short Track Speed ​​Skating Championships in Seoul on Sunday. Suzanne Schulting received a penalty in the final and grabbed the medals at her favorite distance.
Velzeboer was already the best in the 500 meters on Saturday. The 21-year-old Dutchman was also in a class of his own in the double distance a day later. She took the lead from Canada's Courtney Sarault with three rounds to go and then rode well clear of the competition.
"I actually don't believe it yet," said Velzeboer in a first reaction to the NOS . "I was really looking forward to the final and that made me very calm for the race. I had perfectly preserved my energy for my final shot. Really incredible."
The South Korean Choi Min-jeong finished second, three tenths behind Velzeboer. Sarault had to settle for bronze.
Schulting rarely loses in the 1,000 meters. She became world champion in 2019 and 2021 and Olympic champion in the kilometer in 2018 and 2022. On Sunday, the 25-year-old Frisian quickly fell behind in the final. She crossed the finish line in fourth place, a good distance from Velzeboer. She then also received a penalty after the race for an unauthorized overtaking action on Canadian Claudia Gagnon.
"I'm just not better than this," Schulting said in tears to NOS . "I've never had this before, that I'm so empty. I'm broken to the bone, I don't have anything left in my body. I don't dare say why."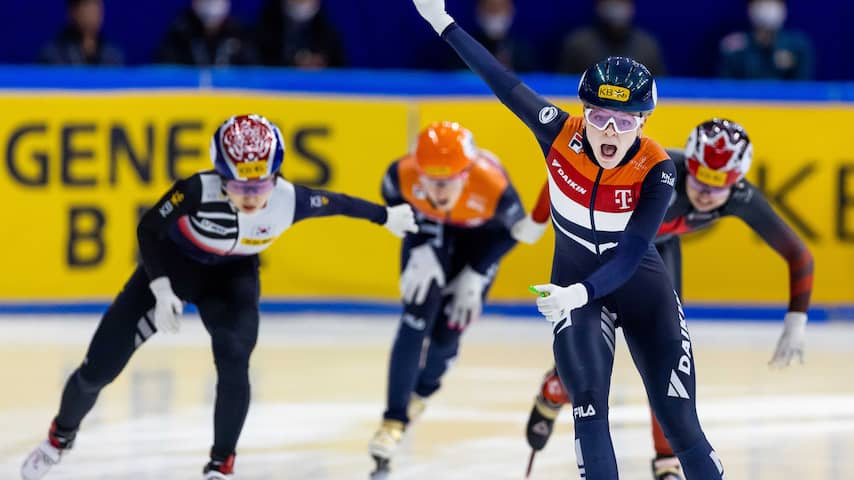 Xandra Velzeboer had a big lead over Suzanne Schulting (in the background) on the line. Photo: ANP
Dutch women dominate World Cup
The Dutch women have won all individual distances at the World Cup in South Korea thanks to Velzeboer's double. On the 500 meters there was a completely orange podium with Velzeboer (gold), Schulting (silver) and Selma Poutsma (bronze). Schulting was the best in the 1,500 meters on Saturday.
Velzeboer and Schulting also took the world title in the women's relay with Poutsma and Yara van Kerkhof on Sunday. Just before that, Velzeboer, Schulting, Teun Boer and Jens van 't Wout also won gold in the mixed relay. Velzeboer therefore closes the World Cup with four titles.
World Cup short track medal mirror
Netherlands – 5x gold, 1x silver, 2x bronze South Korea – 2x gold, 3x silver, 1x bronze Italy – 1x gold, 1x silver, 1x bronze
---
---