---
March 12, 2023 at 02:19
Who is the mole? 2023 came to an end last night. Ten well-known Dutch people have spent weeks trying to discover who the saboteur is in their midst. Every week one dropped out, which NU.nl spoke extensively the next day. This week we talk to the Mole.
Attention: this article contains spoilers about Wie is de Mol?
Jurre Geluk is relieved when we speak to him. Months ago he and nine other well-known Dutch people traveled for Wie is de Mol? to South Africa. What they didn't know: he would get in their way. In three weeks, one after the other fell off, until only he, Ranomi Kromowidjojo and Daniël Verlaan remained.
And then came months of waiting. Months in which no one was allowed to know that they had participated. And then months in which everyone would ask him if he was the Mole. Now he can finally tell everything.
"I've been looking forward to this moment for so long. I've seriously been awake at 6 a.m. every day for two weeks. This feels like a big birthday. I've had so many nerves in my body."
Daniel is the only one of the candidates who realized that you were the Mole. Are you the best mole ever?
"No, I certainly don't think so. But I am very happy that so few people sat on me in the group. On television you see us in the assignments and I think that's why it was easier for viewers, because in the assignments I muttered quite clearly. But the other participants saw me 24 hours a day. And at that time I was mainly busy pretending to be a candidate."
"When I called my friend, we had an agreement: if I app you a heart, we can 'just' call. If I send you a pig, we will call 'fake'. With the latter I sat down between the candidates while I told him extensively about the day. The rest told me later that they heard those conversations and therefore knew for sure: Jurre can't be it."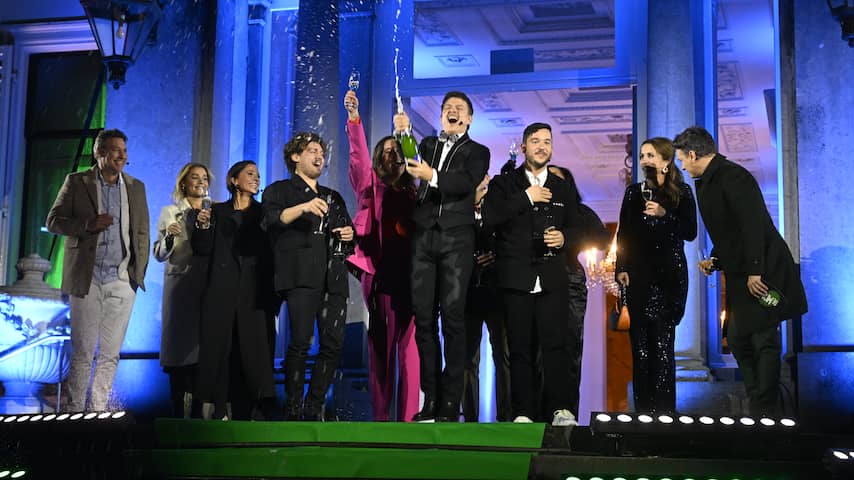 Jurre Geluk celebrates the denouement on the steps of Soestdijk with the other participants.Photo: BrunoPress
Did you think of that during the two weeks in which you could prepare for your tasks as Mol?
"No, I spent those two weeks learning everything about the assignments. Actually, I learned the broad outline: if I go left with that assignment, then I have to do that as Mol. And if I go right, then those are the options ."
"I didn't really have much time to prepare. I actually really liked that. That allowed me to go into the program with an open mind. Everything you know is mainly ballast."
How much did you want to know?
"Everon (Jackson Hooi, Mol van 2022, ed.) had given me a very good tip. 'Go into it openly and be yourself. Think of it as chess: if you do this, what is my next move?' I knew the skeleton, but nothing more. That way I could react spontaneously to things."
"I hoped that's what people would think to me: he's so present in the game and so ostentatious, it can't be him. But when we all looked back together, I held my breath. I took out so much , so many moles. It was almost impossible to edit around that. I don't mind: the way you saw it on television, it was also for us in real life. And I think that as a maker you really want your viewer to have an honest chance to guess."
This was an extremely close-knit group. As a Mole, you are out there. How was that for you, those three weeks?
"Very difficult. And I also have… It sometimes felt like I was standing with one foot in the group. And I'm not used to that, because I'm really a group person. But I played a role and that made me a very selfish candidate. Because I never went for the money, I went for the jokers. The group sometimes found that very annoying about me."
"When the assignment was done, I had to work very hard again to be in the group again. Fortunately, that worked out. But when I look at myself through the season, I think: 'Jeezmina. It's that you de Mol, because otherwise I would have really thought of myself as a jerk."
Have you tried to explain that a bit in recent months?
"Sander (de Kramer, ed.) Just came to me: suddenly I get it, he said. 'How you acted there, I now understand.' And a few others have said that too. They now understand why I often went for myself. That was not because I do not wish it on the group, but simply because I was the Mole.
"I know from a few former Moles that they felt very guilty towards the group. I always felt that I was okay with the group. Because people joked: 'If it's you, I'll give it to you so too bad, because then you really are the best mole ever.' That was of course very nice and sweet for me that they said that. Of course it was difficult towards the group, but I have always felt the love very much. "
"I do like a bit of poking and poking. And during my application for Mol I of course had a very big mouth. I just had to live up to that. I often found that very difficult. But I also enjoyed it so much Because, well, this is just the most beautiful game in the Netherlands."
---
---