---
Mar 12, 2023 at 08:55Update: 9 minutes ago
The Dutch short trackers won the women's relay and the mixed relay at the World Cup in Seoul on Sunday. The women of national coach Niels Kerstholt have therefore won all possible world titles at the tournament in South Korea. Xandra Velzeboer closes the World Cup with no fewer than four gold medals.
In the final of the women's relay, Olympic champion the Netherlands (Velzeboer, Suzanne Schulting, Selma Poutsma and Yara van Kerkhof) narrowly beat the South Korean team. The bronze went to Canada.
Velzeboer was overtaken by the South Korean Kim Gilli in the last corner, but the star of the World Cup came back very well. On the line, the difference between gold and silver was less than a tenth.
The Dutch women became world champions in the 3,000 meters relay for the second time. The scoop was two years ago in Dordrecht.
Thanks to the success on the relays, Velzeboer has won four world titles in Seoul. The 21-year-old from Culemborg won the 500 meters on Saturday and the 1,000 meters on Sunday. Schulting ends with three golds. She was the best in the 1,500 meters on Saturday.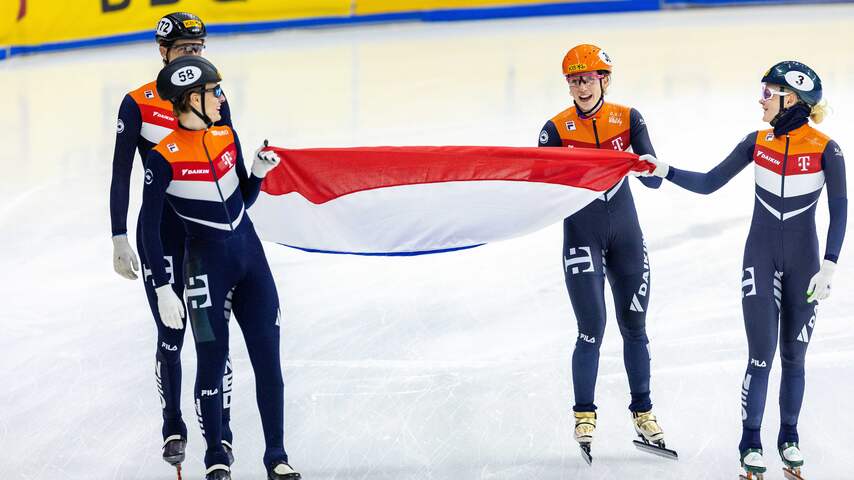 Teun Boer, Jens van 't Wout, Suzanne Schulting and Xandra Velzeboer celebrate the world title in the mixed relay. Photo: ANP
Historic Dutch success on mixed relay
Less than an hour before the final of the women's relay, there was already historic Dutch success in the mixed relay. Velzeboer, Schulting, Teun Boer and Jens van 't Wout captured the very first world title on this part.
Velzeboer made the decisive gap in the 2,000 meter race on her last turn in the final. Slot driver Van 't Wout kept the Chinese Lin Xiaojun well behind him in the last lap. Olympic champion China skated to silver and the Italian quartet took bronze. Belgium came fourth and last in the final battle.
Schulting was spared in the semi-finals after her big disappointment in the 1,000 meters final. The three-time Olympic champion finished fifth and said afterwards that she was completely empty. In the final battle of the mixed relay, she was drafted again by national coach Kerstholt. Boer was preferred to Itzhak de Laat.
The mixed relay – with two women and two men in each team – was already held at the Olympic Games in Beijing last year, but was included in the world championships for the first time this week in South Korea. The Netherlands is also the reigning European champion.
World Cup short track medal mirror
Netherlands – 5x gold, 1x silver, 2x bronze South Korea – 2x gold, 3x silver, 1x bronze Italy – 1x gold, 1x silver, 1x bronze
---
---