By Jeroen van Barneveld
---
Mar 11, 2023 at 3:46 PMUpdate: 3 minutes ago
In the history of the World Short Track Speed ​​Skating Championships, it never happened that the Netherlands won all medals at one distance. Xandra Velzeboer, Suzanne Schulting and Selma Poutsma took care of that scoop on Saturday at the 500 meters in Seoul. That led to a lot of pride in the Dutch camp.
When Selma Poutsma has passed the line after 500 meters and looks ahead, she sees an orange package and another orange package. She looks at her own package. That too is orange. "This is just beautiful," she then says to NOS.
In the 500 meters for women, it was orange on Saturday morning at the top of the South Korean short track palace Mokdong Ice Rink. The Netherlands took away all medals in the shortest short track distance.
Velzeboer took the gold for the second time in a row with force majeure, the silver was for Schulting and Poutsma captured the bronze. Since 2001, when world titles per distance were introduced, the Netherlands had never achieved anything like this. The last time a country did something like this was in 2014 (South Korea).
"This completes the party", said the brand new world champion Velzeboer from Seoul. "It is very special. Actually, it is not normal. It shows how strong we are as the Netherlands. This is really great."
According to Schulting, the team spirit is the key to the success of the Dutch women. "We are very good as a team. The fact that the three of us are on the podium can only be because we are close to each other and want to make each other better. Otherwise you will not get these results."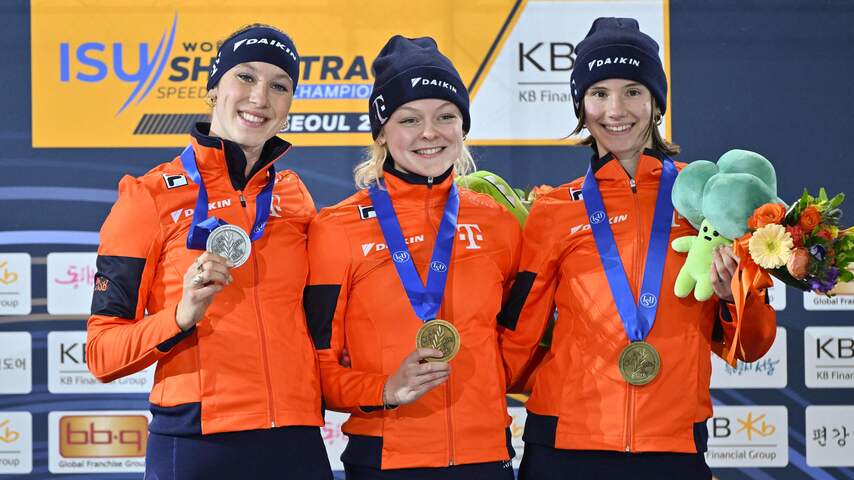 A completely Dutch podium, with Suzanne Schulting (left, silver), Xandra Velzeboer (middle, gold) and Selma Poutsma (right, bronze). Photo: AFP
Velzeboer also wins as top favourite
For Velzeboer it was her second world title in a row in the 500 meters, but this felt different for the Culemborg from last year. In Schulting's absence, her title was a stunt in Montreal last year.
Now Velzeboer, as the reigning world champion and holder of the world record in Seoul, lived up to the high expectations. National coach Niels Kerstholt sees that she has passed through a barrier. "She knows she can do this with the push. This distance is hers now."
Another victory for Velzeboer: she defeated triple Olympic champion Schulting for the first time in a major tournament. "That was a bit in my head. I know that speed is my strength. I knew it could work. I am very happy that it really worked."
Velzeboer dominated the 500 meters from start to finish. She was the first to go through the first corner and already made a big gap with Schulting in the first lap. "This was almost the perfect race." Not just for Velzeboer, but for the whole of the Netherlands.
---
---