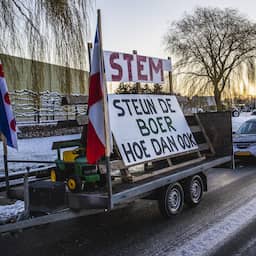 The police took dozens of tractors off the road this morning on the N11 near Alphen aan den Rijn. They were on their way to The Hague for a demonstration. An emergency order has been in effect in the municipality since this morning. Tractors that want to enter the city are turned away or directed away from the city limits.
In addition to the dozens of tractors that have been taken off the road on the N11, farmers in the Westland also went on their way to The Hague in tractors. They have been sent back.
The farmers, led by the Farmers Defense Force (FDF), are demonstrating, among other things, against the rules to limit nitrogen emissions. The forced buy-out of farmers in the vicinity of nature reserves is also on the table.
FDF has informed the municipality of The Hague that it will come with 25,000 people. The municipality says there is no maximum number of participants. There may be two symbolic agricultural vehicles next to the stage.
These demonstrations got out of hand earlier, so The Hague issued an emergency order this morning. Farmers who want to demonstrate with their tractors are sent back and, if necessary, directed elsewhere from the city limits.
---
---