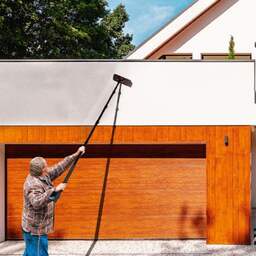 With this telescopic water brush from Shine, all outdoor cleaning jobs become a lot easier! Thanks to the robust bristles and the extendable water brush, you can quickly and easily clean various surfaces, such as the facade of your house, roof tiles, walkways and even solar panels for optimal operation.
Cleaning has never been easier than with the retractable water brush. The washing brush has a telescopic handle, consisting of 4 parts that you can extend to a maximum of 4.6 meters. You can easily connect the telescopic water brush to the water supply network. The washing brush is equipped with an OGS connection that fits with the connector on a garden hose. This way the water flows directly to the brush. The brush head also has a soap dispenser, so you don't have to soap the surfaces separately.
The extendable water brush has a handle with soft grip for great strength and ease of use, even when the maximum length is set at 4.6 metres.
---
---