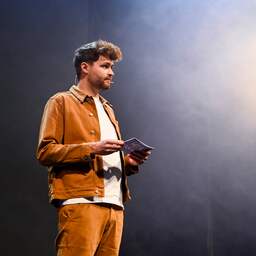 ---
Mar 10, 2023 at 9:32 PMUpdate: 5 minutes ago
Writer Pim Lammers unexpectedly opened the book ball on Friday evening. He read the poem Stolen on stage at the start of the party. It is the text that Lammers wanted to recite later this year during the Children's Book Week.
The 29-year-old author returned the assignment for the Children's Book Week poem in early February because he had received death threats.
The threats followed when an online frenzy erupted over a story the author had written for adults in the past. It was the author's first public appearance since early February.
Stolen is about the love of parents for their children and the love between siblings. Book dome CPNB, which organizes both the Book Week and the Book Ball, says that Lammers recited the poem once. The author had already written the text when he decided to return the assignment on February 4 because of the death threats.
"I have started writing again, but I am more careful," says Lammers in an interview with the AD. "I now know that every single sentence I write down is not only a building block of a story, but can also be taken out of context and used against me. I find that a difficult thought."
The investigation into the threats is still ongoing. Police now have three suspects in mind.
---
---