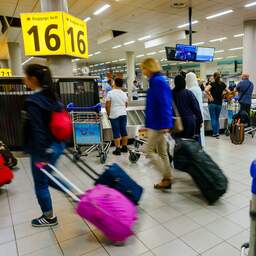 ---
Mar 10, 2023 at 6:10 PMUpdate: 5 hours ago
The government does not stop collecting data from air passengers. The Dutch Data Protection Authority (AP) had requested this. However, the information is kept for a shorter period of time: three years instead of five.
If, during those three years, evidence emerges that someone may have been involved in terrorism or serious crime, the term can still be extended to five years. Minister Dilan Yesilgöz (Justice) announced this on Friday.
The AP, the privacy regulator, had called on the government last month to stop the large-scale processing of airline passenger data. According to the watchdog, "the travel details of all airline passengers are collected and kept in a database for years. That is not allowed."
The data is intended to track terrorists and serious criminals. But according to the AP, the government also collects information from "a very large number of people who do not belong to the group for which the database is actually intended".
Minister Yesilgöz says it is necessary to keep data for three years. According to her, "investigations into serious crime and terrorism need one to three years old data".
According to the minister, if the retention period becomes even shorter, there will not be enough data available "to prevent, detect, investigate and prosecute terrorist offenses and serious crime and thus promote internal security".
---
---