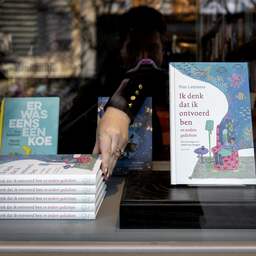 By our entertainment editors
---
Mar 09, 2023 at 07:26Update: 6 minutes ago
Two people suspected of threatening writer Pim Lammers have been questioned by the police. A third suspect is also in the picture. He has yet to be questioned, the Central Netherlands police told ANP.
The police take the investigation into defamation, insults and threats against Lammers very seriously, says the spokesperson. "Threat is a serious and criminal offense. These individuals thought they could get away with online threats to a writer. Free speech is a great asset that we want and must protect and guard."
The police do not rule out that more suspects will come into the picture in the coming period. The investigation is still ongoing. After assessing the files, the Public Prosecution Service decides whether the suspects will also be prosecuted.
Lammers resigned his assignment for the Children's Book Week last month after receiving death threats. This happened after an older story of his caused a stir online. It was a story for adults, about a sexual relationship between a trainer and a minor pupil.
The story is about grooming: a process by which an adult gains the trust of a younger person for the purpose of sexual abuse. Lammers based his writing on the experience of an acquaintance.
The Public Prosecution Service has assessed some of the many hundreds of messages and responses to Lammers. Not only Lammers, but also authors who stood up for him received death threats. Authors and publishers then decided to place a full-page advertisement in all national newspapers to show support for Lammers. Bookshops also supported him.
---
---