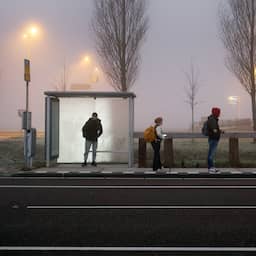 Every day around lunchtime you can read what people think of the big news of the morning. Today: this is what you say on our response platform NUjij about the public transport cuts in rural areas. In recent years, more and more bus stops have been disappearing there, making villages less accessible.
"I live in the province, in a village with a population of 3,000. We have a bus that runs at certain times of the day (every hour or every two hours) and does not run in the evenings and weekends. The first bus stop from us The house is 1 km away. This is doable for young people, but not for my mother (84, who has difficulty walking). So she is totally dependent on us or others to take her somewhere."
"The fact that there is no public transport is bad, but what really bothers me are general measures from The Hague to make driving more expensive or to discourage driving. That is only possible if there is an alternative. So soon with road pricing, for example. We have here no choice and will therefore pay more than people in the Randstad where a bus, tram or metro runs every ten minutes."
"Would The Hague please take a look at that! Because as has been said many times here in the comments, we pay the same amount of tax as the people in the Randstad, so we should also have the same amount of rights."
"I agree twice. I endorse the importance of public transport for certain target groups, let that be clear. I live in a small village (about five hundred inhabitants) and we therefore only have an 8-person community bus that runs on volunteers."
"I do believe that if you are going to live in a small village, you have to accept the benefits and burdens of it. You know that you live in a remote area. Wonderfully quiet, beautiful surroundings. But you are dependent on each other and self-reliance. We still know the well-known noaberschap here, so it is customary here to help your neighbors. The elderly can always get a lift. (As long as it lasts, the municipality wants new construction, which means that many people from the region will join.) "
"After all, facilities must also be able to keep up. Running a bus costs money, you can't just expect that. You can expect each other to look after each other in a village."
User Peter_Griffioen says:
"Public transport is a necessary cost item for a well-functioning society. No revenue model.
Primary needs such as education, security, healthcare, infrastructure, housing and energy should not be privatized. Set them up as effectively and efficiently as possible, but if it turns out that money is needed, so be it. Then tax money will be put to good use."
User Alja_5d11e381 says:
"In Drenthe they have a very nice system: the hub taxi. From (public transport) hub to an address, or from address to hub, or from hub to hub. Costs? Hardly more than a public transport bus (I drove 5 km the other day , and had lost less than 2 euros 50. Regular taxi would be at least a tenner, I think)."
"Heavily subsidized by the province, but that has allowed them to abolish bus lines, while you actually only have better coverage. Because you can be dropped off in every corner. Not great for students or something, but one could set up student lines for that (only one or two buses in the morning and afternoon)."
Would you also like to shine your light on this subject? Then click here. The above comments are displayed as posted by users. The editors of NU.nl are not responsible for any language errors.
Did you find this article via Net In? You can find similar documents every day via the NUjij button at the bottom of your app.
---
---