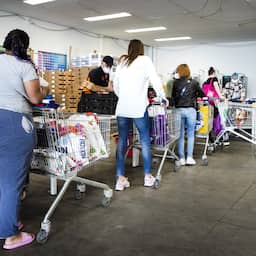 ---
09 Mar 2023 at 08:00 Update: 10 minutes ago
If the lowest incomes have to make do without the temporary allowances (such as those for energy) in 2024, many Dutch people will end up in poverty. According to an estimate by the Central Planning Bureau (CPB), 995,000 Dutch people, including many children, will be below the poverty line next year.
Poverty will increase considerably again next year, the CPB expects. While 4.7 percent of the Dutch population currently live in poverty, that percentage will rise to 5.8 percent next year. Next year, 7.1 percent of all children will grow up in poverty, compared to 6.1 percent in 2023.
The increase in the number of Dutch people in poverty is the result of the expiry of a few measures, such as the energy allowance of the municipalities. Poverty has decreased somewhat in recent years.
Poverty means that you don't have much, but just enough money. You should be able to eat, drink and live with that money. But also take out a sports membership and book a short holiday. For a single-person household, the poverty line this year is 1,508 euros per month, in 2024 it will be 1,573 euros.
The government wants to halve the number of children living in poverty compared to 2015. But the CPB does not think that will be possible, given the increase in the number of Dutch people living in poverty next year. And as it stands now, poverty will continue to grow to 6.4 percent of the population and 8.3 percent of children in 2031.
'Structural measures necessary against the poverty trap'
"Something has to happen if you want to achieve the goal of halving poverty," says CPB director Pieter Hasekamp. He sees that energy surcharges have prevented poverty from increasing. "But more structural measures are requested for next year, aimed at lower incomes."
According to Hasekamp, ​​you can think of increasing benefits or, for example, raising the minimum wage again, which will have an effect on benefits. "The increase in the minimum wage at the beginning of this year has already been overtaken by inflation." The CPB director emphasizes that possible measures are of course political choices.
In response to the CPB report, the government has announced that it is working hard on targeted measures for lower incomes. These must be included in the spring memorandum, which must be completed before 1 June. It is not yet clear what concrete measures are envisaged.
Purchasing power up again, but not for everyone
The planning office was quite positive on Thursday about the resilience of the economy and the development of purchasing power. Purchasing power will decline slightly this year (0.2 percent), but due to higher wages, it will grow again by 2 percent in 2024. This is due to wage increases.
However, this catch-up does not reach all income groups. This is, for example, the cost of energy. Despite the price ceiling, these are still a lot higher than before the energy crisis.
Economy continues to grow even in difficult years
With a percentage of 1.6, the economy will continue to grow cautiously this year. For 2024, the CPB expects a growth of 1.4 percent. Although the planning office is positive about the resilience of the Dutch economy, those growth figures are much lower than in recent years, when the economy grew by more than 4 percent for two years in a row.
That doesn't mean there are no more dangers lurking. A harsh winter could drive up energy prices again, warns the CPB. The planning office thinks that gas prices can then rise again to the level of last fall. If that happens, inflation in 2024 would therefore not be 3, but 6 percent. Moreover, our purchasing power would also decrease slightly.
Hasekamp hopes that the cabinet will also look into measures for a possible severe winter this spring. "This prevents you from having to intervene while your back is against the wall."
---
---